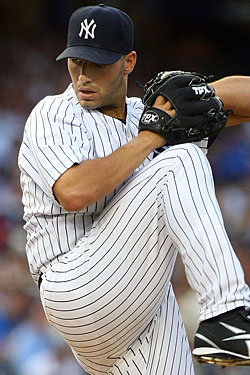 Whether you think tonight's starting pitcher should have been A.J. Burnett, Chad Gaudin, or Whitey Ford, it's Andy Pettitte who will get the ball (on three days' rest) with the chance to win the World Series. Pettitte is 3–1 with a 2.80 ERA in five career postseason starts on three-days' rest — including his memorable Game 5 outing in the 1996 World Series — but he's 4–6 lifetime in the regular season on short rest with a 4.15 ERA. (His last such outing was with Houston in 2006.) So what can we expect out of him tonight?
In Game 3, Pettitte allowed three runs in the second but settled down to eke out six innings and the win. (His best moment of the night came with the bat, singling in the tying run in the fifth.) Was Watching looked at Pettitte's recent pitch counts — he's averaged around 95 pitches since mid-September — and suggests he could throw about 85 tonight on short rest. But assuming he's effective, that could be higher, considering he threw 104 in Game 3 when he admitted he didn't have his best stuff. Of course, "assuming he's effective" is the key to everything.
For what it's worth, Pettitte says that the short rest is "not even a concern," and points out that in Game 3, when he "felt terrible," he was on six days' rest. Depending on how you choose to read this, it's either a good sign (in that there won't be a correlation between number of days of rest and effectiveness) or a terrible one (in that he didn't even have good stuff on extra rest).
Perhaps all of this is much ado about nothing. Pettitte's history in Game 6s is spotty, but his last two have been his best, including the ALCS-clinching win against the Angels. And Bob Gibson, unofficial spokesman for the Good Old Days, says that pitching on short rest shouldn't be a big deal, anyway. From the St. Louis Post-Dispatch:



"What's the big deal?" Gibson said Monday night. "I don't get it. I don't think it's going to kill somebody.

"A pitcher can't pitch with three days' rest? Some of those guys make $8 million a week."
For the record, Andy Pettitte doesn't make $8 million a week. (Nor, by the way, does any ballplayer.) But regardless, we hope he's right.