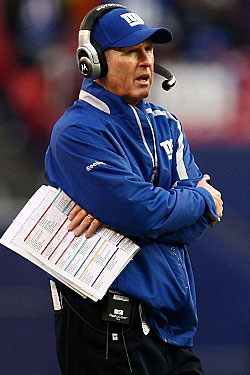 The Giants' playoff scenario is simple. They are a game behind the Packers and a game behind the Cowboys, and they own every tiebreaker, somehow. If they win their next two games, and either the Cowboys or Packers lose one, they're in. If they go 1–1, and one of those teams loses two, they're in. Pretty easy. Easy enough that it'll drive you a little nuts.
One thing that can't happen — and we've tried every scenario possible — is the Giants winning the division. Which means, unless this scenario happens, and they sneak in with a No. 5 seed and then play the Packers in the NFC Championship game, the Giants will be playing their last game at Giants Stadium on Sunday, against the Carolina Panthers. After that, you'll just have to remember what the parking lot looked like from Big Fan.
Theoretically speaking, this week's game should be the easier of the two remaining for the Giants. The Panthers are out of the playoffs and starting someone named Matt Moore at quarterback. That said, they manhandled — such a good word, manhandled — week-seventeen opponent Minnesota last Sunday night and actually sent the Favreians into a downward spiral of finger-pointing and dissent. Also, the G-Men are coming off a short week, which is never ideal.
The Packers and Cowboys both have easier games than the Giants this week (home against Seattle and at Washington, respectively), which means a loss to the Panthers could end up eliminating the Giants in a snap. The Giants are favored. The Giants should win. It's their last game at Giants Stadium. All is set up for them. And all is set up to collapse in a heap, if it dares. Expect Giants Stadium to be filled with old Giants greats. It would seem wrong to make them watch the Giants fall out of the playoffs. It would be like the last day at Shea. Nobody wants that.