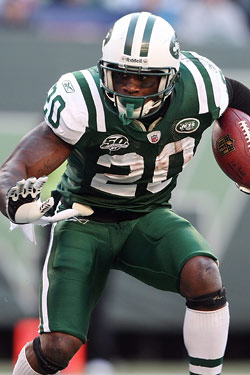 We continue to fiddle with the NFL Playoff Scenario Generator, and we continue to find it more difficult to sneak the Jets into the playoffs than the Giants (the Giants simply need the Cowboys to keep collapsing). Much of the discussion Jets-wise revolves around whether Mark Sanchez will start or not — it's looking like "yes" right now — but, as always, the only player who will really matter for the offense will be Thomas Jones.
We've been so preoccupied with the rookie quarterback and the loud coach and the impressive defense that we've kind of missed the season Jones has had. He has 1,200 yards rushing, good for fifth in the NFL, and has run for eleven touchdowns, third in the NFL. He has been the one constant — particularly with the loss of Leon Washington for the year — and the reason the offense hasn't ground to a halt. With 135 yards over his next three games, he will have the most productive season of his career … at 31-years-old, ancient for a running back.
Seasons like this don't happen often, and it's almost a shame Jones's career year is coinciding with a rookie quarterback's natural struggles. By the time Sanchez is fully in control, he'll have a different, younger running back (maybe even Shonn Greene) than Jones. The Jets probably aren't making the playoffs, but we've seen Thomas Jones at his best. Enjoy it, everybody.