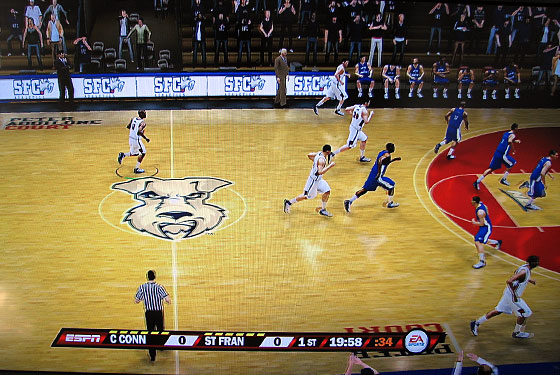 We know the Jets are playing, and we're gonna watch most of the game because they are the Jets and we write for New York magazine, but we'll miss the first half for a far more inspiring sporting event: We're heading to Brooklyn Heights — that is to say, "walking down the street" — for the beginning of our tour of all college hoops venues in the city. It's Central Connecticut State at St. Francis (NY). Catch the excitement!
We're not the biggest press St. Francis has garnered in the last week: Dan Shanoff wrote a lovely piece for the New York Times last Sunday about bringing his son to a game at Peter Aquilone Court. Unlike his 3-year-old son, Gabe, we're going to stay for the whole game, even though we also get cranky and restless in public.
It's just the beginning of our tour; we're going to see them all this year. Here's our schedule:
Thursday, January 7
Robert Morris at Long Island
Monday, January 11
St. Francis at Columbia
Wednesday, January 13 (Doubleheader at MSG)
Cincinnati at St. John's
Dayton at Fordham
Saturday, February 6
Charlotte at Fordham
Monday, February 15
Fairfield at Manhattan
Thursday, February 18
Bryant at Wagner
Wednesday, February 24
Marquette at St. John's (In Jamaica)
See? We're very devoted.
Neither Central Connecticut State nor St. Francis — alma mater of The Sports Section's co-editor Joe DeLessio's father — is off to a thrilling start: CCSU is 1–3, and our Terriers are 1–4, though they just won their first game on an awesome last-second shot against Colgate. We expect them to now rattle off fourteen wins in a row.
Because we are a total dork, we simulated tonight's game on our PlayStation 3 version of NCAA Basketball 2010 (see that inspiring action shot above). The game went into overtime, but in the extra period, the Blue Devils dominated, outscoring St. Francis 18–6 to earn a 76–64 victory.
The CCSU star was Ken Horton, who scored 21 points and grabbed nineteen rebounds. (There were many missed shots to rebound.) The leader for our Terriers was Ricky Cadell, who scored eighteen points, albeit on 8-of-23 shooting. Until overtime it was a terrific game, which we know because we really did sit down and watch the whole thing. Because we are a dork. If you're out there tonight, come by and say hi. Once we figure out what St. Francis's colors are, we're totally painting our face.