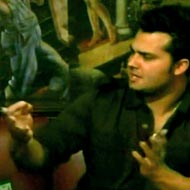 Funnyman Nick Swisher made a cameo on CBS's How I Met Your Mother last night, in an episode that laid the sports references on real thick. The plot revolved around womanizer Barney attempting to complete a "perfect week" (i.e., bedding seven ladies in seven nights without rejection). Throughout, he holds an imaginary conversation with broadcaster Jim Nantz, and there are endless references to jinxes and perfect-game superstition. The episode culminates — SPOILER ALERT, SORT OF! — with Swisher walking into the gang's bar on night seven, jeopardizing Barney's perfecto. Hilarity, naturally, ensues.
For our money, this doesn't quite top the show's NCAA-tournament episode — the one with the bracket of women who hate Barney — if only because of that episode's brilliant use of a show-closing montage to the tune of "One Shining Moment." (For a much more insightful breakdown of last night's episode, check out Amos Barshad's Vulture recap, which also includes an anecdote about Kevin Youkilis "dominating" at a Boston bar.)
One gripe with last night's episode, though: In the discussion of how no normal man can compete with a Yankee for the attention of a woman, hopeless romantic Ted mentions that he was once "rack-jacked" by Phil Rizzuto. Come on, How I Met Your Mother writers: Uncle Phil would never have messed around on Cora. You're better than that. Kudos, though, for making fun of Swisher's hair. It's about time someone took that faux-hawk down a notch. Video of Swisher hamming it up lives below.