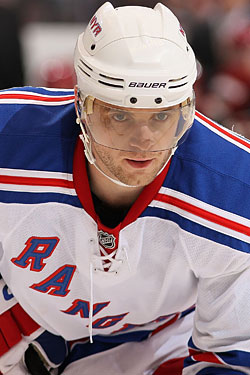 Like everyone else in this city, the Rangers were probably hoping for a snow day today. Canceling a game at the Garden is pretty rare — especially because the visiting Predators and the on-ice officials are already in town. But the prospects of playing without Marian Gaborik, even for a night, must have them hoping to put off tonight's game for any reason possible.
According to Larry Brooks, the Rangers expect to play tonight, and though a team spokesperson told him earlier that could change if the mayor issues a State of Emergency advisory, it looks like they've made the decision to proceed as scheduled. But speaking of potential states of emergency, Gaborik isn't expected to be in the lineup; it's just a day since he suffered a lacerated thigh cut by Henrik Lundqvist's skate at practice. The winger received stitches, but Newsday reports that the injury doesn't appear to be too serious.
If this did turn out to be something more than a day-to-day injury, the timing isn't all that bad for the Rangers, considering the NHL breaks for the Olympics starting next week. We imagine, though, that the Slovakian national team feels differently.