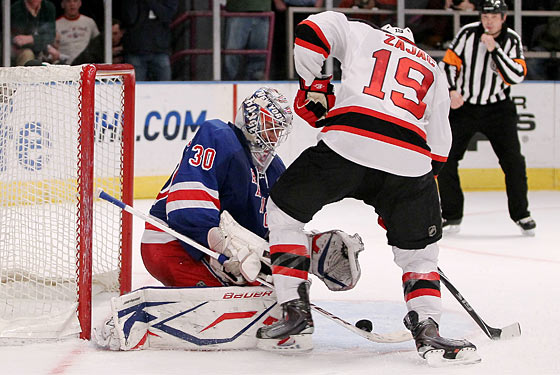 Last season, the Rangers' roster was constructed in such a way that it was loaded with role players, but lacked a true sniper — the type of player that could single-handedly take over a game. This year, many of those players have returned, but the opposite has been true: They've got their superstar offensive force in Marian Gaborik, but he's surrounded by underachievers. All of which made Saturday's win over New Jersey so satisfying.
At mid-season, we wrote that Henrik Lundqvist would have to be great, and not simply just good, for this team to go anywhere. An elite goaltender can't necessarily carry a team by himself, but he can make up for a lot of deficiencies. (And make no mistake, this team has plenty of them. There were stretches of even Saturday night's win during which the defense was as sloppy as they've been all season.) To this point in the season, Lundqvist hasn't stolen many games. But he outplayed Martin Brodeur and stole the win Saturday — thanks largely to his allegedly weak glove hand.

And then there's Sean Avery, who left nemesis Brodeur alone for the most part, but instead turned his attention to Ilya Kovalchuk, pestering the Devils' new arrival to the point that he dropped his gloves and racked up four minutes of penalty time — just enough to keep him in the penalty box for the first-place Devils' last-gasp attempts to score. (Afterward, the Devils were left wondering why Avery didn't get an unsportsmanlike conduct penalty.) This type of agitation is precisely why Avery's on this team, and the general lack of such incidents this season is among the reasons this team has struggled so much. For one night at least — a night on which captain of the underachievers Chris Drury scored a goal, no less — things went as planned.