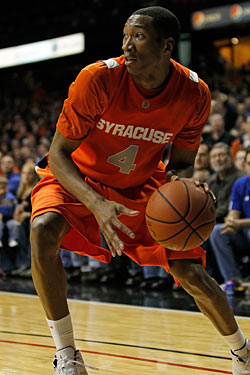 We are just under five weeks away from Selection Sunday for the men's college basketball tournament, which is closer than you realize, especially considering the Olympics are coming up and nothing passes the time like luge. So we'll be starting a weekly NYC Hoops Watch every Monday, with a ranking of the odds of each local team of making the tournament. We're not including Syracuse, not just because they don't actually have a campus within city limits, but also because they're obviously going to be a No. 1 seed and it would be repetitive to include them. Still, though, to make alums happy, here's a picture of Wesley Johnson.
So, we commence with our NYC bracketology. Teams are ranked from most likelihood of making the NCAAs to the least.
1. Long Island Blackbirds (9–14, 7–5 in Northeast Conference)
Odds: 16 percent.
Yep, that's how rough it looks this year: The NYC team with the best chance of making the tourney is currently 9–14. The Blackbirds are tied for third in the NEC, a league that gives the higher seeds in its conference tournament home games. Long Island is also the only NEC team to have defeated Robert Morris, which is currently 11–1 and running away with the conference.
2. St. Francis (NY) Terriers (10–13, 7–5 in Northeast Conference)
Odds: 13 percent
The Terriers, who have never made the NCAA Tournament, are that team tied with the Blackbirds. (The teams have split their two meetings.) We gave LIU the edge because they beat Robert Morris and because, having seen both teams play, we think they're better. But it's hard not to root for St. Francis. Everyone should make the tournament, at some point.
3. St. John's Red Storm (12–10, 2–8 in Big East Conference)
Odds: 7 percent
Another tough loss for St. John's — at home against West Virginia, after hanging in for a while — makes their NCAA hopes look more remote than ever. The only thing they have going for them at this point is opportunity. If they can beat Louisville at the Garden on Thursday, they've got three potentially winnable games before taking on Pittsburgh and Syracuse. But this looks like a team — and a coach — that has missed its window.
4. Manhattan Jaspers (8–16, 3–11 in Metro Atlantic Conference)
Odds: one percent
The Jaspers' dreadful season has left them ninth in the MEAC MAAC, ahead of only Marist, which is somehow 1–23. (Somewhere, Rik Smits weeps.) The only reason they're ahead of the other three teams on this list is because the MAAC allows every team into its postseason tournament, meaning there's a chance, no matter how small.
5. Fordham Rams (2–19, 0–9 in Atlantic-10)
Odds: .3 percent
Yes, there are two teams below Fordham. That's because the A-10 lets twelve of its fourteen teams into its tournament, and Fordham still has a chance, amazingly, to finish among those top twelve. It'll require a win this Saturday against twelfth place George Washington, a game we will be attending. So keep hope alive!
6. Wagner Seahawks (4–21, 2–10 in Northeast Conference)
Odds: .2 percent
Only below Fordham because they're in eleventh place in a league that only allows eight teams in its tournament. And they're four games behind the eighth-place team. At this point, we reiterate that every conference should figure out a way to let everyone in their conference tournament.
7. Columbia Lions (8–12, 2–4 in the Ivy League)
Odds: zero percent.
Columbia is clearly better than Fordham and Wagner, but the Ivy League has no conference tournament, and they're not catching up with Cornell, who is currently ranked. Columbia could win the rest of their games by 50 points a game, and it'll still end March 6 at Brown. Get with the times, Ivy League.