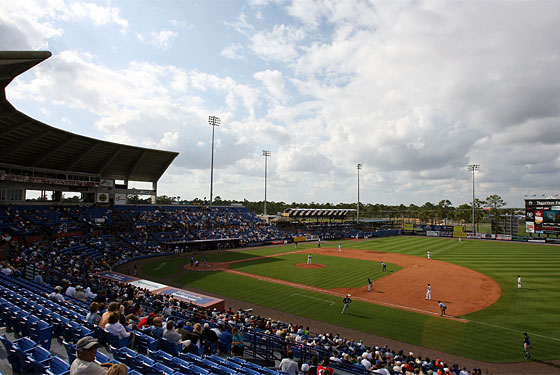 The last time you watched a Major League Baseball game, Shane Victorino grounded to Robinson Cano, who threw to Mark Teixeira — and then the world exploded. Today, in about five minutes, you will be able to watch another one. Grapefruit League baseball begins today, kids. In about ten minutes.
Over at Tradition Field in Port St. Lucie, the Mets are playing the Braves in a real, live contest of baseball. The first pitch of the preseason will be thrown by Nelson Figueroa. You can watch it on MLB.tv, or follow along. There will be a box score that has hits and runs and strikeouts and errors and all of it — the box score will just fill itself up, because there is a baseball game being played.
By the way, just to get Mets fans excited, the first pitch Jose Reyes saw in an intrasquad game, he smashed for a triple. Hope.
Though there's still a possibility of rain in Port St. Lucie. Let's not think about that right now.
Baseball. It's officially yawning and stretching its arms and just about back. Thank heavens. It's always too long.