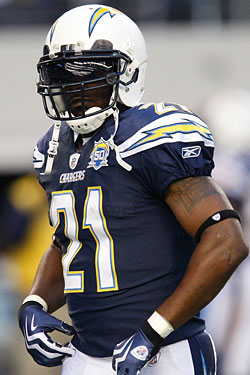 This is kind of awesome: LaDainian Tomlinson had narrowed his options down to the Jets and Vikings, and one of the factors that swung his decision in New York's favor was that their quarterback situation was more stable than Minnesota's. Which is to say: Here, he knows Mark Sanchez will be his quarterback, and he knows he'll be far away from Brett Favre's upcoming summer of indecision.
That wasn't the only factor, of course: Jim Trotter reports that Tomlinson likes the Jets' offensive scheme — the same one he played under with the Chargers — as well as offensive coordinator Brian Schottenheimer, who'd served as quarterbacks coach for five years in San Diego. Tomlinson also stands to get more touches in New York backing up Shonn Greene than he would have backing up Adrian Peterson.
In Tomlinson, the Jets get a future Hall of Famer coming off a career-low 730-yard season, albeit one in which he scored twelve touchdowns. (His rushing yards have been dropping, drastically, since his 2006 MVP season.) But as a Jet, he provides something of an insurance policy if Leon Washington doesn't return healthy, as well as an option to catch passes and run the ball on third down. And though he'll be making slightly more than the two-year, $5 million contract Thomas Jones got from Kansas City, that's less than what Jones was due to make in New York this year.