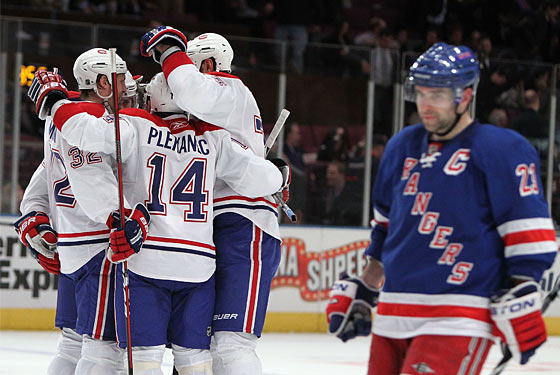 The Rangers were down a goal late in the third period last night and about to go on the power play, in a critical game with playoff implications, but you wouldn't have known it by listening to the Garden crowd. It's hard to blame them: The scoreboard said the game was close, but it really wasn't. They'd played such a sloppy game — such a flat game — that the crowd understood that scoring to tie the game was a long shot. The Rangers had played with no sense of urgency all night — why should the final minute be any different? More likely than not, while the Rangers were on their six-on-four power play, Montreal would just send the puck down the ice and into the empty net to seal the 3–1 win. And that's exactly what happened.
Of all the things wrong with the Rangers last night (for example, the power play), the most concerning was the dreadful play of the top line. And the most concerning thing about the dreadful play of the top line was the fact that, once again, Marian Gaborik was a non-factor, playing at half-speed and generally making poor decision after poor decision with the puck. This team could barely score enough goals to stay in the playoff race when Gaborik was among the league leaders in scoring. Without him, they're toast. Once again, Sean Avery was technically the offensive star of the night (that's not a good sign), right up until he took a hack at Scott Gomez in the closing seconds.
Boston won last night, meaning the Rangers fell two more points out of a playoff spot. They're now three points behind the Bruins with twelve games to go (Boston has thirteen; the two teams play on Sunday), and next face St. Louis tomorrow night at the Garden. A couple more games like last night's, though, could render the final weeks of the season pretty meaningless.