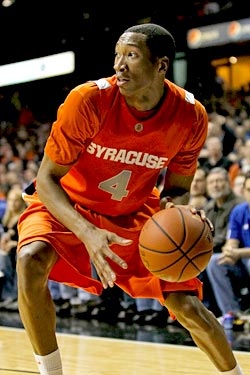 Syracuse didn't finish ahead of Duke among the four No. 1 seeds — meaning they'd meet top-ranked Kansas in the semifinals instead of the finals — but they did snag a No. 1 seed somewhere, despite an early exit from the Big East Tournament and the fact that tourney champ West Virginia has a higher RPI. So glass half full, right?
That date with Kansas, of course, hinges on four more wins by both teams. After presumably getting revenge on Vermont in the opening round, the Orange could have to play Gonzaga, a pretty tough draw for the second round. Despite an eight seed in the West region, the Zags are ranked 18th and 22nd in the coaches and AP polls, respectively, and for what it's worth, they're 7–1 on neutral courts this season. One round later, the Orange could meet a top ten team in Butler, currently riding a twenty-game winning streak.
Syracuse likely suffered in the Big East Tournament by playing an opponent (Georgetown) that had twice seen its zone defense in person and could make adjustments. In this region, three teams have faced the Orange this year: Pittsburgh (who handed Syracuse its only non-Louisville loss during the regular season), Florida (whom Syracuse beat during the SEC–Big East Challenge back in December), and Oakland (who will likely lose to Pittsburgh in the first round). Kansas State (RPI: 5) looms in the Elite Eight, should both teams survive their halves of the bracket.
The biggest question surrounding the Orange right now, though, isn't about its potential opponents — it's about the health of Arinze Onuaku, who injured his right quad against Georgetown. His status had been unclear leading up to Selection Sunday, but once Cuse's spot was secured, Jim Boeheim said he was "unlikely to play this weekend," which would include a game against either Gonzaga or No. 9 seed Florida State. Factor that in when picking your Final Four this week, which, as a reminder, you should do at The Sports Section's official bracket here.