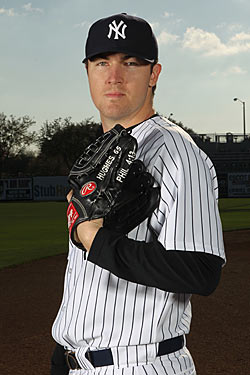 The start of the baseball season is less than a month away. Every weekday until opening day, we'll be counting down, from No. 20 to No. 1, the most important Yankees players for the upcoming 2010 slate. Today, No. 11, pitcher Phil Hughes.
This isn't being said enough, so let's get it out of the way right at the top: Phil Hughes may very well prove to be the most qualified candidate for the fifth-starter position out of camp, but if he wins the job, he'll have the same problem Joba Chamberlain did last year. Hughes has an innings limit, and whether you like that or not, he's got one, and he'll hit it far before the end of the season if he pitches every fifth day. Brian Cashman confirmed it again just this week.
Of course, sending Hughes to the bullpen doesn't exactly solve the Yankees' problem, either. The whole point of the innings limit is to gradually increase the number he throws from from year to year. But Hughes threw 105.1 innings last year (19.1 of them in triple-A), so he won't up that by throwing exclusively out of the pen. Maybe this doesn't matter because he's going to be a reliever for the rest of his career, and they don't need to build up his endurance. But that's not the plan, necessarily. Maybe the Yankees know exactly how they're going to handle this, or maybe they're playing it by ear. Sometimes it's hard to tell.
It's also hard to tell, then, exactly how big a role he'll play on this team. He could potentially end up in the rotation, at least for a while. Or he could be the setup man, like he was for much of last year. (He filled this role perfectly during the regular season, if not in the playoffs.) Or, should Chamberlain end up in the bullpen, too, he could be wind up a middle-reliever, pitching the seventh inning and shortening the game for the starters. We can't wait to find out which part he'll play. We bet he can't either.