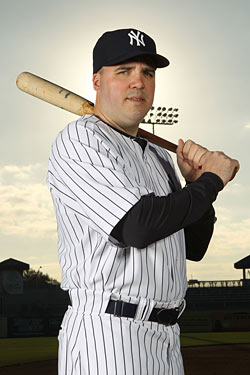 The start of the baseball season is less than a month away. Every weekday until opening day, we'll be counting down, from No. 20 to No. 1, the most important Yankees players for the upcoming 2010 slate. Today, No. 12, designated hitter Nick Johnson.
The first time Nick Johnson wore Yankee pinstripes, he played first base pretty regularly over the defensively challenged Jason Giambi. He won't need his glove nearly as often this time around, what with Mark Teixeira on the roster, and Nick Swisher available in case of a long-term emergency. Like Hideki Matsui before him, he's the full-time DH on this team, but he gets to do it in one of the sweetest batting spots in baseball: behind Derek Jeter, and in front of Mark Teixeira and Alex Rodriguez.
Johnson's best asset is his ability to get on base: His 2009 OBP would have led the Yankees by twenty points. Problem is, that's his best asset by quite a margin. After hitting 23 home runs in 2006, he hasn't hit more than eight in a season since. His on-base percentage would have led last year's Yankees, but his OPS would have ranked him ninth. But the Yankees know he's not Johnny Damon or Hideki Matsui. They're not bringing him in to drive in runs; they're bringing him in to get on base so Teixeira and A-Rod can drive in runs.
There's only one potential flaw in this plan, but it's a pretty big one: Johnson gets hurt — a lot. Twenty-nine days missed with a heel injury here, seventeen for a hamstring there — plus the entire 2007 season with a broken femur and 137 days on the DL in 2008 with a wrist injury. You can see most of his injury history here, or see an updated list by searching for him here. The reason that first link from January isn't up to date? He already missed a few days of camp with stiffness in his lower back. One of the reasons the Yankees like the idea of using Johnson mostly at DH is that they believe the reduced workload will keep him healthy. That's the plan, at least.