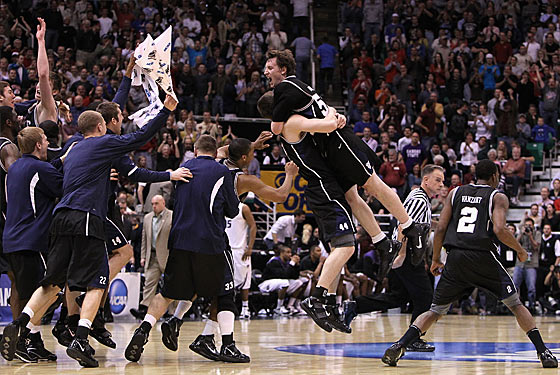 No matter what happens, next Monday night's National Championship Game, a week from tonight, will have one team that no one on earth could have imagined being there. Butler is the ultimate underdog, a mid-major team with a 32-year-old coach that, somehow, ended up hosting its own party. Michigan State might seem like a usual suspect — the Spartans have made five of the last eleven Final Fours — but this team is beaten up, tired, wounded, and worn down. And still, here they are. Butler and Michigan State are the symptoms of the giddy sickness of this year's NCAA Tournament. And West Virginia, the third Final Four team, took down the evil Calipari's of Kentucky — West Effing Virginia, giving the Mountaineers their first Final Four since Jerry West played for them. Oh, also, Duke is here.
All told, it's a bit of a breakthrough for Duke, as well: It's the Blue Devils' first Final Four since 2004 which, wow, was a totally long time ago. Duke is generally considered the tournament favorite now, which means nothing because this is the tournament that everyone will remember as the ridiculous one that no one could have possibly anticipated. It will also be known as the last time the tournament was perfect before they added 32 more teams, but let's not think about that now.
We have a full week until anybody plays again, so you have a full week to think about your bracket, and think about what you've done. Speaking of which: The leaders of The Sports Section bracket pool are The Ghost of Steve Fisher and This Is Indiana, a distinctly Big Ten flavor around these parts. The real leaders, though, are entries that had possible national champions still hanging around. So, the top scores of entries with teams remaining:
BankHoldUp United 2 (West Virginia)
The Shizzle (Duke: Note that the Shizzle is the entry of New York Magazine staffer Ben Mathis-Lilley)
The Detroit Dirt Bags (Michigan State)
And absolutely nobody in our pool picked Butler. You all should be ashamed of yourselves.