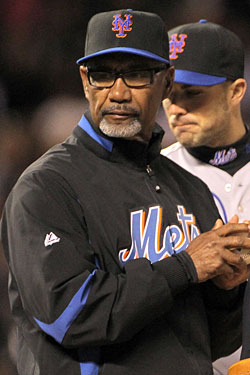 A few facts about the Mets' start to the 2010 season: (1) After a crushing tenth-inning loss to the Rockies, the Mets are 2–6, the worst start to a season since 1992; (2) The Mets are already five games behind the Phillies, tied for the most games currently behind in baseball, tied with the Orioles and winless Astros; (3) The Mets have not had a lead at the end of an inning since Friday; (4) You know, we're gonna stop this before people start crying.
As Amazin' Avenue points out, everything is already falling apart at once. The Mets haven't had a quality start since Mike Pelfrey, today's starter, last took the mound. The Jenrry Mejia experiment already seems not to be working. The bats are faltering, going one-for-twelve with runners in scoring position last night. Jerry Manuel is making some bizarre moves, including pinch-running Fernando Tatis in the tenth last night, leaving him with only Alex Cora to pinch hit for the pitcher. It's collapsing immediately.
The real problem is that there are no real reinforcements coming. The Mets have operated under the notion that last year's historically injury-plagued season couldn't be repeated. But Carlos Beltran's and Daniel Murphy's ultimate returns won't change that there are no replacements in the rotation for John Maine, Oliver Perez, or Jon Niese, and with no days off until the end of the month, the bullpen is going to be run ragged. The schedule isn't much help, either: The Mets won't face a team that had a losing record in 2009 until a three-game set in Cincinnati beginning on May 3. The issues are stacking up much sooner than anyone could have anticipated. And there's little reason to believe they will abate. This could get ugly.