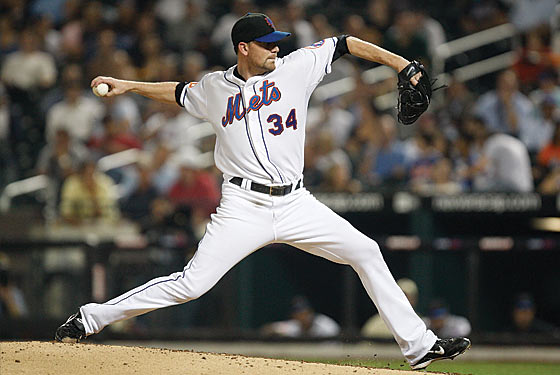 We were at Citi Field last night, and we mustn't lie: The atmosphere was grim. It was a dreary evening, because even though the Mets were facing the hardly imposing Nate Robertson, it never really felt like they were in the game. (The sparse crowd didn't help.) The Mets' lineup just wasn't capable of putting together a big comeback, and the Mets were only down by two runs. Those bases-loaded walks and balks don't come around every day. Jon Niese was encouraging, but not much else was.
The Mets open up a three-game homestand tonight with the Nationals. Ordinarily, the Nationals are a balm for bleeding NL East teams, but it's possible that team is now the Mets. With the injury to Luis Castillo last night, via Amazin' Avenue, here's what the Mets lineup is likely to look like tonight:



CF Angel Pagan
2B Alex Cora
3B David Wright
LF Jason Bay
1B Mike Jacobs
RF Jeff Francoeur
C Rod Barajas
SS Ruben Tejada
P Mike Pelfrey
Yipes. The good news is that tomorrow — with the glorious Oliver Perez taking the mound against John Lannan — Jose Reyes is supposed to be back in the lineup, which means the lineup out there tonight might be as bad as it gets for a long time. Remember those "wins in the bank?" The vaults hold the losses, too.