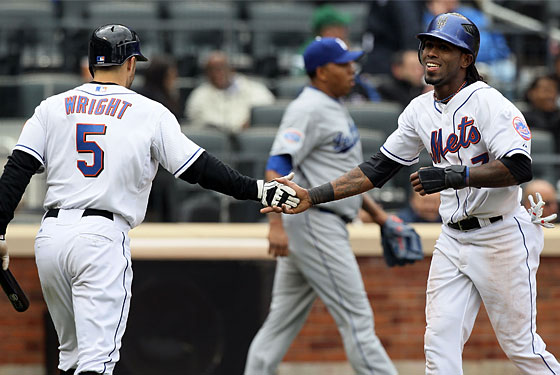 In the 41-year history of the Mets, they've only had two other homestands like the one they just finished, the 9–1 whitewashing of the Cubs, Braves, and Dodgers: One was in August 1969, and the other was in September 1988. The Mets made the postseason each of those years. Omens!
When this tubular ten-day homestand began, the Mets were 4–8 and in last place. Now they have a day to relax before heading to Philadelphia for a three-game set. Matters are going so well for the Mets that they don't even have to travel across the country on a scheduled day off. We bet they're all still asleep as we type this, frankly.
The hitting is starting to slowly come around — we're sure Ike Davis is getting all the credit for this anyway – but the pitching has been either a revelation or a fluke, depending on your purview. John Maine was even good last night, though, in typical John Maine hangdog woe-is-me fashion, he credited the wind for it.
It is too early to say the Mets have turned their season around; remember, on May 29 of last year's wretched season, they were in first place. But a week and a half ago, this weekend's series in Philadelphia looked like it could potentially break the Mets. Now it looks like a weekend to make a statement. A statement that will surely be forgotten about in a month — but a statement nevertheless. Sleep well today, sweet Mets.