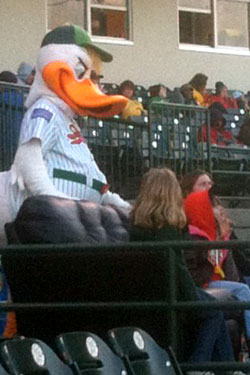 Last night, we braved the slight cold and heavy winds of Central Islip, Long Island, for the kickoff of our big Minor League Stadium Crawl. It was a bit of a confusing trip, from the unclear name of the stadium we were in (more on this in a bit), to the fact that we were watching Sidney Ponson pitch. It was really rather disorienting.
Anyway, we'll be grading all eight stadiums we go to, just like we did with the NYC College Hoops Tour, in five categories: Facilities, Quality of Play, Promotions, Adorability, and Miscellaneous. Because St. John's never accepted its stick of butter for winning Best Local College Hoops Experience, we're coming up with a new prize: We will buy an authentic jersey of the winning team and happily display it on the site. We know: They'd rather have the stick of butter.
Anyway, here's the whole schedule:
Lakewood Blue Claws — Thursday, June 17
Sussex Skyhawks — Wednesday, June 23
Somerset Patriots — Monday, June 28
New Jersey Jackals — Wednesday, June 30
Newark Bears — Wednesday, July 14
Staten Island Yankees — Tuesday, July 20
Brooklyn Cyclones — Wednesday, August 4
Now, to the rankings!
Venue: Suffolk County Sports Park, Central Islip, New York
Team: Long Island Ducks
Ticket Price: $12, for the fourth row behind home plate
Percentage of Equivalent Ticket at Yankee Stadium vs. Red Sox Off StubHub: 0.6 percent ($1,850 on StubHub)
Facilities. An essential aspect of any memorable baseball stadium experience involves the surroundings. In Staten Island, you can see downtown. In St. Louis, you can see the Arch. In Chicago (well, Wrigley Field), the people watching from the rooftops across the street are half the fun. For Long Island Ducks games, you are in the middle of corporate centers, courthouses, and parking lots. You are, essentially, relegated to an office building, albeit one with more advertisements for tax services and car detailing. The park itself is fairly standard issue, with no quirks in the outfield fences or particularly memorable nooks and crannies. It looks like a slightly larger high-school field. Which we suppose it kind of is. Rating: 3/10.
Quality of Play. On one hand, the Atlantic League is independent, entirely separate from Major League Baseball, which means it employs former big leaguers like Ryan Freel (Farney!), Edgardo Alfonso, Dustin Mohr, and, at one point, John Rocker. That's a level of competition above, say, the short-season single A that Brooklyn and Staten Island play, no matter how washed up those players might be. On the other hand, Sidney Ponson — Sidney freaking Ponson! — gave up one run in six-plus innings and led the Ducks to a 10–1 win over the Somerset Patriots. If Sidney Ponson is that dominant, and he really was quite dominant, your league can't be that high of quality. It just can't. Ponson looked like making it to the dugout at the end of every inning was a relief. He looked like he needs to have his uniform resewn every week. Rating: 6/10.
Promotions. Last night was magnetic schedule night, and a look at the 2010 schedule shows lots of other giveaways — think T-shirts, lunchboxes, and baseball-card sets — but few of the off-beat promotions that make Minor League Baseball so much fun. The strangest freebie on the calendar? A bobblehead doll of News 12 anchor Carol Silva, to be given away to the first 1,500 lucky fans on June 13. Rating: 3/10.
Adorability. So much of the experience of going to a Minor League game revolves around what happens in-between innings — essentially, the Max Patkin Principle — so we were a little let down by the Ducks' offerings. After all, this is a team called the Ducks: They should have something fowl-related, maybe What Kid Can Make the Best Quack? contest, or a Feather Toss. Something. Instead, it was generic entertainment all around: Dizzy bat races (which, admittedly, are always kind of fun), a field-goal kicking contest, and even a hot-dog race, even though we can't figure out what hot dogs have to do with ducks. Come on, guys, get creative! You're the Ducks, for crying out loud. Rating: 4/10.
Miscellaneous. At this time last year, the Ducks' stadium was called Citibank Park — the name that still adorns the park's exterior. But that naming-rights deal expired this spring — for some reason, Citicorp didn't pony up the cash to renew it — and a new sponsor has yet to be found. Basically, it's one big reminder that the economy sucks. Officially, the stadium is called Suffolk County Sports Park, which is a lame moniker even by placeholder name standards. (Why "Sports Park"? What other sports are they playing here?) On top of that, they go to great lengths not to call the stadium by its real name during the game, calling it simply "the ballpark" or giving it a nickname like "the Duck Pond." Rating: 2/10.
Total: 18. A heroic pitching performance by Sir Sidney Ponson isn't enough to make up for the park's dull surroundings and too-generic promotions.