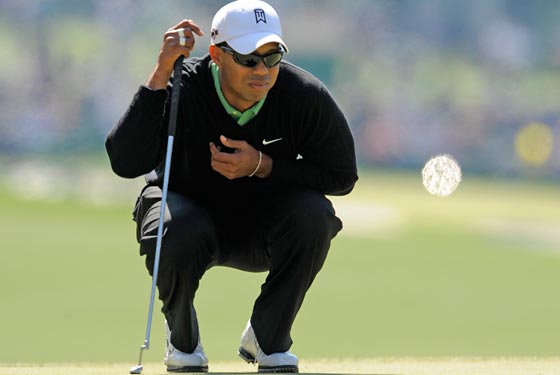 Tiger Woods, whose name in the headline will probably give this post more pageviews than it necessarily deserves, didn't blow everybody away like he did yesterday. But he's fine. He's shot a two-under-par 70 on the day, bringing him to six-under-par for the round. That's currently two shots behind leader Ian Poulter, at eight-under, though Phil Mickelson, among others, still has half a round to go. So CBS, which broadcasts the final two rounds of the Masters tomorrow and Sunday, is very happy. And so, surely, is Tiger.
Once again, there were no incidents or outbursts; everyone at Augusta was quiet and respectful, lest they be tased. The course didn't play as easily as it did yesterday, but Tiger's "problem" today, like it was yesterday, was putting: He missed a crushing birdie putt on seventeen that would have put him in even better position.
Tiger, though not as sharp as yesterday (albeit he's driving as well as he ever has), looked comfortable all day, even giving a little o-face (sorry) after an excellent shot from the rough on seventeen. As he approached the green on eighteen, he received his biggest standing ovation of the day.
Tee times are not set for tomorrow, but he'll likely begin at about 12:30 or so, considering his place in the standings. So enjoy your morning. Get some rest. Tiger Woods will be facing a different kind of pressure — golf pressure — than he has for the last few months. It's the pressure he has always handled better than anyone else. So far, he has been the same golfer as he always was. Now comes the hard part.