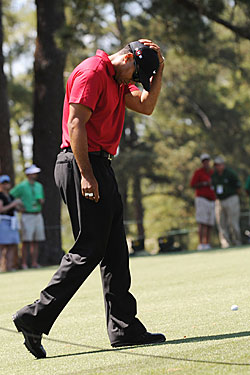 The first three days of the Masters, Tiger Woods did his best to resemble a newer, happier, more well-adjusted Tiger Woods. He didn't curse; he didn't look rattled; he even smiled a couple of times — you almost wondered if the epic scandal would ultimately be a good for him. Tiger has never been the type of athlete/celebrity to laugh at himself, but it almost seemed as if the last few months had humbled him to the point of bewilderment. Well, THAT's over: He seemed to shrug at times during the Masters' first two days, saying and I'm still out here playing well. This might turn out well after all. Then yesterday happened.
Yesterday was the first time post-scandal that Tiger seemed out of control. We used to see his outbursts and club-throwing — both prevalent yesterday — as an irrelevant byproduct of hypercompetitiveness; now we attach it to the same lack of discipline that brought him all the trouble in the first place. Tiger melted down yesterday late (the three-putt on the fourteenth hole was particularly brutal), allowing Phil Mickelson to give the Masters the family-friendly storybook ending Augusta National surely wanted in the first place. Tiger isn't quite all the way back yet, and how could he be?
Still, even on a "meltdown" day, Tiger finished three-under-par and challenged for the most beloved title in golf. He says he won't take any time off and will be back ready to go: The next major is June 17, the U.S. Open in Pebble Beach, California.
As rough as yesterday was, you have to think the worst is over for Tiger. He will play a few smaller tournaments before Pebble Beach, and he'll probably end up being heckled at one or two of them in a way he wasn't at Augusta. It'll become a funny viral-video hit, but the casual rubbernecker won't watch those tournaments, or the U.S. Open, or any other golf major, probably for the rest of their lives. Tiger didn't win this weekend, but he did compete, and he did survive. The road back has begun. Tiger is a golfer again.