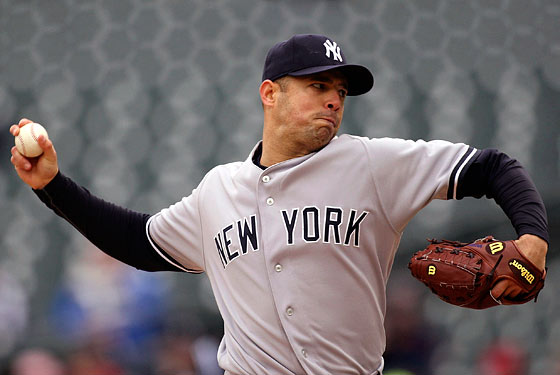 If this blog's focus wasn't New York sports, this post would be about how Rick Porcello, in the midst of a terrible season, tossed seven shutout innings against the Yankees this afternoon as Detroit beat the Yankees 2–0 in the first game of a day-night doubleheader. But Rick Porcello plays for the Tigers, so, you know, good for him — but we're going to talk about Javier Vazquez instead. Because while Vazquez took the loss (his fourth), he pitched by far his best game of the season.
Vazquez threw seven innings (the deepest he's pitched this season), allowed two earned runs (a season low), struck out seven (a season high), while walking just two (tied for his season low). Unfortunately, there wasn't much else to celebrate for the Yankees, who mustered very little offense off Porcello, Ryan Perry, and Jose Valverde. Ramiro Pena — starting at third while Alex Rodriguez served as the designated hitter — had a particularly brutal day: He flied out to end the second with the bases loaded, struck out with two men on to end the fourth, and grounded into a double play to end the seventh.
That's three losses in a row for the Yankees, and the best they can do in this series now is split. (Their only series loss so far came against the Angels in Anaheim last month.) But in the long run, straightening out a guy who's supposed to take the ball every five days — though, obviously, it remains to be seen if he's truly straightened out — is more important than winning this particular game on a Wednesday afternoon in May. In fact, the game happened so quickly (a Joe West–approved two hours and fifteen minutes) that we're not sure it technically counts in the standings, anyway.