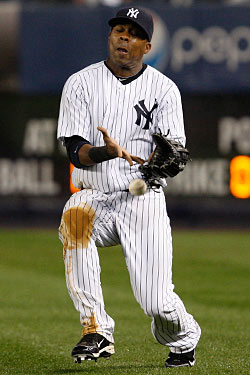 Normally, when a team squanders five-run leads on consecutive days — and especially when they lose the second of those games after taking a 5–1 lead into the eighth inning — the blame gets squarely placed on the bullpen. And to be sure, the Yankees bullpen has been embarrassing over the last two nights. But there were plenty of places to point fingers.
Let's at least start with the bullpen. Unlike Monday night, when Chan Ho Park was forced into a late-inning situation he had no business pitching in, last night could have gone according to plan: CC Sabathia for seven innings, then Joba Chamberlain and Mariano Rivera for one each. And technically, that's what happened, except that Joba allowed four runs (three earned) in the eighth — enough for Boston to tie the score — and Mariano Rivera allowed two runs (none earned) in the ninth, giving Boston a 7–5 lead.
However, the Yankees' defense didn't do either man any favors. Alex Rodriguez started the eighth inning with a throwing error that allowed Marco Scutaro to reach base, and things only got worse in the ninth. Marcus Thames — Monday night's hero — dropped what would have been the second out of the ninth, but instead allowed Scutaro (again!) to reach. Jeremy Hermida, who'd replaced J.D. Drew earlier in the game, would eventually hit a two-out, two-run double over the head of Randy Winn, who was playing shallow in left.
HOWEVER, the Yankees still had their chances to win. After Scuataro (that guy again!) allowed A-Rod to reach by committing an error of his own, Robinson Cano doubled to cut the deficit to one. Then, for reasons we don't fully understand, Joe Girardi had Francisco Cervelli bunt. We understand that advancing the runner to third could have allowed Cano to score on a sac fly or a wild pitch. But Cervelli's hitting .647 with runners in scoring position this year, and Thames's Monday-night walk-off aside, the bottom third of the Yankees' order isn't especially intimidating. And after Thames walked, Juan Miranda grounded out and Jonathan Papelbon struck out Winn to end the game.
The Yankees played this game under protest — they claimed that there was no indication Josh Beckett was really hurt when he left the game, and that Manny Delcarmen shouldn't have been given all the time he needed to warm up — so we suppose it's technically possible they'll get to play it all over again. But while we're inclined to side with Girardi here, it would be almost impossible to prove, especially since Beckett did just miss a start with a back injury. We're not holding our breath.