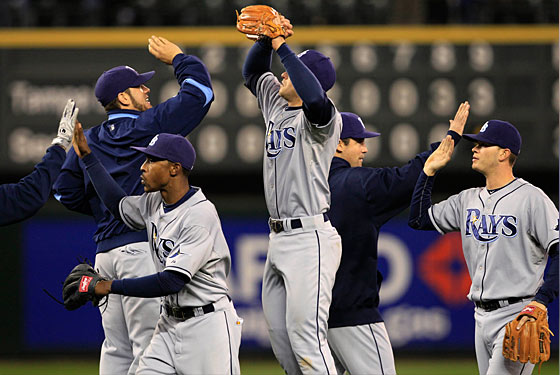 The Tampa Bay Rays are currently 20–7, the best record in Major League Baseball. For the second time in three years, they look like they're going to foil the Red Sox' and Yankees' desperate gallops to the postseason that we've all grown accustomed to loving. How are they doing this? Are they going to keep it up? We couldn't think of a better way to preview tomorrow's Yankees–Red Sox series than by talking to the great Jonah Keri, author of the upcoming The Extra 2%: How Wall Street Thinking Took a Major League Baseball Team From Worst to First, which is about the Rays. (For Jonah's sake, we hope people hate Wall Street less in Spring 2011, when the book comes out, than they do now.) What's the deal with these guys?
The Rays are off to a terrific start. Obviously they're for real, considering it's hard to play that well for a month-plus without having a lot of talent, but everyone here still considers this a Red Sox–Yankees show. The general consensus is that they're too thin and won't be able to hold up for a full season. Do you think that has any truth to it? If not, what is their main weakness as of right now?
Wow, who are these people who think the Rays are too thin? If you want to argue that they lack the reliable veteran superstars that the Yankees have, that I'll buy. But this is the deepest team in baseball by a wide margin. Look at what young players like John Jaso, Reid Brignac, and Wade Davis — guys with less than one year of service time — are doing so far this year. Davis is the No. 5 starter, Brignac was supposed to be in the minors or warming the bench, and Jaso wasn't on anyone's radar. Meanwhile, they've got Desmond Jennings, Jeremy Hellickson, and other help waiting at Triple-A the minute a slump gets serious or an injury occurs. What we're seeing so far this year (as we saw in 2008) is the culmination of a decade of collecting and developing talent, combined with a bunch of shrewd moves made by the new regime.
At the beginning of the year, I picked the Yankees to win the division, the Rays to win the wild card, and the Red Sox to just miss, with those three teams being the three strongest in baseball. I still feel that way.
The PECOTA Playoff Odds Report has the Rays with a 90.3 percent chance of making the playoffs this year. Does that seem high to you?
It's obviously way too high. For one thing, they face the toughest path by far to a division title in the AL East. Then once you're vying for the wild card, you have all kinds of unknowns to handle. The Playoff Odds Report is a really cool tool, but it's more of a snapshot of any given point of time, like the Power Rankings you'll see on more mainstream sites, only with hard numbers backing it up. The Rays have played a fairly easy schedule through the first sixth of the season; they've had everything go right and nothing — except maybe for Ben Zobrist's homerless streak and injuries to bit players like Kelly Shoppach and Matt Joyce — go wrong. They're a great team, but they're going to cool off sooner or later.

We all know Carl Crawford and Evan Longoria and Carlos Pena and David Price. Who's the one great Rays player people still underestimate?
Matt Garza and James Shields, in a tie. Garza's an absolute horse: You'll see him go eight innings without breaking a sweat, often matched up against the best pitchers in the league (he went eight last night against Cliff Lee and was terrific as usual). Shields is the senior member of the rotation at 28, and he's about as steady as they come. Keeps his team in the game every year, one of only a handful of pitchers to throw 215 or more innings a season in each of the past three years. And from a purely aesthetic point of view, you won't find many pitches prettier or more dominant than Shields's fantastic changeup. I watched Pedro Martinez coming up with Expos, I've seen Johan Santana destroy the American League, and I can even remember the sweet circle-change of Mario Soto. Shields isn't quite the pitcher that Pedro and Santana were in their primes, but his changeup is in that class.

Your book will explain how this Rays juggernaut has happened, and how their braintrust has put together something lasting. But that's our question: Can this last? Obviously, there's talent on the farm, but can a team without a reliable fan base and television revenue keep this going indefinitely? Is the front office frustrated that their success hasn't brought in more fans?
Let's work backwards here. Yes, Rays management is frustrated that attendance hasn't been more robust. But they also understand extenuating circumstances. Certainly the Yankees, Red Sox, and Cardinals, but also the Twins, Giants, and Tigers, have the luxury of decades of history, building fan loyalty, raising generations of fans who'll go to the ballpark, take their kids, and breed new generations of fans. The Rays played their first game in 1998. They sucked for ten years. Yes, they're an exciting team now, as they were in 2008 (and they were better than people give them credit for last year too). But that legacy isn't there yet. It takes time. Throw in that unemployment in the Tampa Bay area is hovering around 13 percent (much worse than national average and not as far from the epicenter of bad economic times in Detroit as you would expect), that public transit is nearly nonexistent, and the many unique regional factors that come into play with the Rays, and you have a team that's not drawing as well as you might hope. And even after all that, by the way, attendance is up from the same period in 2009, and 2009 was up from 2008, and 2008 crushed 2007. The team on the field has made giant leaps, while revenue streams have grown in baby steps, basically.
Can this last? Yes. The Rays have proven they can not only contend but also win on a budget. Even if owner Stu Sternberg follows through on his promise to chop payroll next season, and even if that means Carl Crawford, Carlos Pena, Rafael Soriano, Jason Bartlett, Dioner Navarro, Dan Wheeler, and others all leave, the Rays have done such a good job drafting, acquiring, and developing talent that they can plug those holes effectively and cheaply, and keep competing for the foreseeable future. Longer term, say ten years out? Who can say? The Rays might have different ownership by then. Andrew Friedman and all the sharp minds in that front office might be gone. A new stadium may or may not be in the works. So let's put it this way: The Rays have a great shot to contend through the life of Evan Longoria's contract. The third and final option on that contract is in 2016.

It seems like, other than a fight or two, the Rays have a stronger rivalry with the Yankees than the Red Sox. Is that true? Does the Yankees training in Tampa, and George living there, have anything to do with it?
Actually I'd argue that the rivalry is stronger with the Red Sox. You go back to that classic 2008 LCS, Sternberg and John Henry are these Wall Street turned baseball rivals, and the Rays and Yankees have never really gone head-to-head in a high-pressure spot, be it the playoffs or a deciding late regular season series.
There's still a solid rivalry with the Yankees, too, though, sure. When you drive from St. Pete to Tampa, one of the first signs you see coming off the Howard Frankland Bridge points you to George Steinbrenner Field, home of the Yankees. There are lots of Yanks fans in the area (especially on the Tampa side), and they fill up the Trop when their team's in town. Of course there are plenty of Boston transplants in the area who go to Rays-Sox games, too. Honestly, if you're Tampa Bay, Toronto, or Baltimore, you're going to develop a healthy dislike for both the Yankees and the Red Sox, regardless.
Do you like the Trop? We kind of secretly like the Trop.
I do like the Trop. But I think both of us are lousy people to ask, because we're both upbeat guys who love baseball who enjoy watching it just about anywhere. In my case, I grew up going to games at Olympic Stadium in Montreal, so being in a dome never bothered me. And there are advantages to a dome, too. When the place is packed, the noise is intense. Plus no inclement weather, which is a major factor in St. Pete, where it's either 90-plus and humid, or raining, or both, from May almost straight through September.

Plus [team president]Matt Silverman, [vice-president of operations and facilities] Rick Nafe, and others deserve a lot of credit for the steps they've taken to improve the fan experience at the Trop. The place was legitimately a dump during the Vince Naimoli era. Since then, they've done everything from basic touch-up efforts such as extensive paint jobs and upgrading restrooms, to bringing in better food and drinks, carving out fun new seating areas, and running an insane number of promotions, including the biggest concert series in the league. Throw in that the tickets are still among the cheapest in baseball, and it's a great place to see a game. Or 81 games.