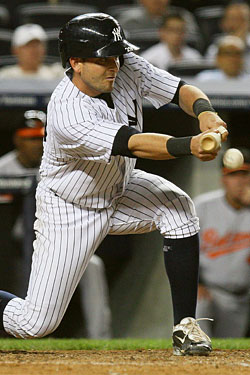 When Rhyne Hughes flied out to left to end last night's Yankees-Orioles game — a 4–1 Yankee victory, and yet another series win — the following players were on the field for the home team: Francisco Cervelli, Ramiro Pena, and Greg Golson. On the mound? Temporary closer Joba Chamberlain. Needless to say, this isn't how they drew it up in spring training.
But injuries — and the occasional half-day off for the starting shortstop — are a lot easier to deal with when your starting pitcher goes seven-and-a-third terrific innings (no earned runs and eight strikeouts) as A.J. Burnett did last night. It also doesn't hurt when the replacements step up: Cervelli finished the night 3–3 with a triple and two runs scored (not to mention a great catch on a foul pop-up while falling over the rail into the dugout).
Mariano Rivera threw off a mound yesterday and inched closer to returning. (He said he's fine with being cautious at this stage in the season, and wouldn't mind having the day off today.) Jorge Posada, meanwhile, still felt stiffness in his calf, and would have only been available in an emergency situation. He hopes to return Friday, when the Yankees start a three-game series in Boston. In the meantime, though, the kids are all right.