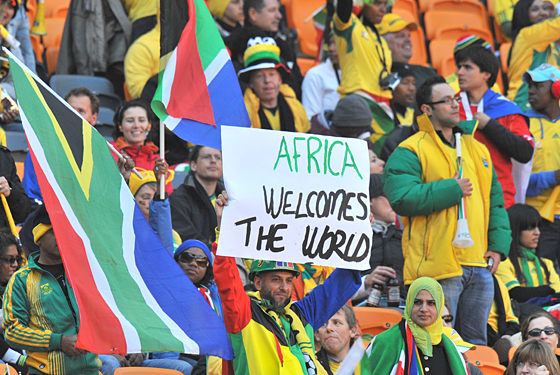 Josh Dean, one of the founding editors of the late PLAY, The New York Times Sports Magazine and occasional sportswriter for Rolling Stone and Outside, will be writing every weekday for The Sports Section about the World Cup. Today, a special Saturday post, looking at day one of action, games between South Africa and Mexico, and France and Uruguay.
Well, that didn't suck. I mean the first game, of course. The second game — let's not talk about that, at least not much, and certainly not now. Bully for Bafana Bafana, which kicked off this party with a bang. For the first half-hour or so of the World Cup's opening match, the first-ever played on African soil, the host nation looked like the outfit everyone thought they were: the weakest host team of all time, destined to get bounced after three humiliating losses. Mexico played keep-away with the ball, parked its offense outside South Africa's penalty box, and threatened the goal again and again.
But those threats failed, and as often happens in a soccer game when one team dominates but doesn't score, the frustration began to build, and frustration begets mistakes. In the waning minutes of the first half, South Africa decided to show up. The boys in yellow had a flurry of close calls just before the half, and when they came out for the second half it was a completely different team.
In the 55th minute, the impossible happened. South Africa scored first. Siphiwe Tshabalala got loose on the left wing and unleashed a rocket that beat Mexico's goalie — who is kind of terrible, by the way — to the upper corner. The stadium roared, the continent shook, and all the world's vuvuzelas honked in unison. I happened to be watching the game at Ft. Greene's Madiba, which seems to be the only South African joint anyone could find on Yelp, if the number of confused TV reporters wandering around asking inane TV-news questions like, "Are you proud to be South African today?" is any indication.
The eruption of joy all but blew out the windows.
Mexico countered by wheeling on the ancient Cuauhtémoc Blanco, the oldest man in the World Cup and a guy who takes his last name so literally that he has shoes to match. Who better to spark an offense than a 37-year-old man? (Later, when I saw my girlfriend, her first comment was: "Did you see that guy in the Mexico game who's like 50?")
Anyway, it hardly mattered that Mexico equalized the score in the 79th minute. A tie was as good as a victory, and when I walked home a half-hour after the game, South Africans were still dancing in the street outside. That, good people of New York, is what the World Cup is all about.
And the second game …
Was there one? Oh right, the one with the French guys, only a few of whom were actually born in France. I hardly recognized Les Bleus because they were clad in le blanc and the boys in blue actually came from Uruguay, a very good team that the ESPN announcers keep treating — to my great annoyance — as if they were underdogs.
The game was about as dull as a World Cup game can be, despite a ton of talent on both sides. You had France, led by Frank Ribery, the ugliest man in the World Cup (and also a fantastic midfielder) versus Uruguay, led by Diego Forlan, a dead ringer for young Michael Bolton (and also one hell of a striker). It's hard to cheer for France, and not just because they're French and wear jerseys that are at least two sizes too tight. (Seriously, garçons, what's up with the boys' mediums?) Les Bleus are only in South Africa because Thierry Henry (a great player and likable guy otherwise) scored a goal with his hand, a blatant act of cheating that everyone but the referee saw, eliminating Ireland in the teams' final qualifying match. No one would be sad to see them lose, most of all me.
I watched the first half at Bar Tabac on Smith Street, then realized it would be disingenuous of me to root for France and rude to root for Uruguay, so I went to a pub up the street and nearly fell asleep in my nachos as the two sides played to a 0–0 tie. Or a nil-nil draw, if you're British.
This is what gives soccer a bad name, mes amis.
At the end of the day, everyone has a point. Group A is a wash.
About that Jabulani:
Oh, and Tim Howard is right. The Jabulani ball flies too far and bounces too high; it's like there's a squirrel inside with binder clip on his nuts. Someone's definitely going to score a freaky goal with that crappy orb, and I hope it's the USA tomorrow.