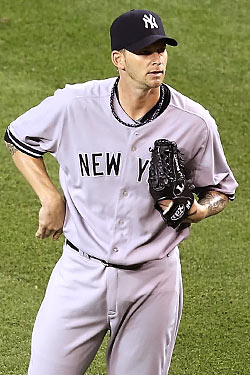 Actually, that headline is misleading: He retired the first two batters he faced, so he technically started the bottom of the first in perfectly acceptable fashion. But before he could record that third out, he'd allow three home runs, a double, and two singles (not in that order) — good for a 5–0 Diamondbacks lead. He'd give up two more runs before departing after four innings, and Justin Upton — who went 3–3 with four RBI and four runs scored — would add his second home run of the night later in the game off Chan Ho Park to cap the 10–4 Arizona win.
It's been a dreadful June for Burnett, who's lost all four of his decisions this month, allowing 23 earned runs over twenty innings. (That's a 10.35 ERA.) The popular question after last night's game: Is it a coincidence that Burnett's troubles began as soon as pitching coach Dave Eiland took his leave of absence? Indeed, both Burnett and Joe Girardi admitted that Eiland's absence might be a part of the problem, but that it's not really an excuse for how he's pitched. (Worth noting: Before last night, the team's ERA was actually slightly lower since Eiland left the club. So whatever the problem, it's not staffwide.)
In other rotation news, the Hughes Rules are finally upon us: Girardi said prior to the game that Phil Hughes will skip his next start in order to keep his innings limit down. And though this method didn't exactly work when they tried it last year with Joba Chamberlain, that doesn't necessarily mean anything for Hughes, as they are, after all, two different people. Hughes, who's tied for the American League lead with ten wins, will make his next start one week from today, at home against Seattle.