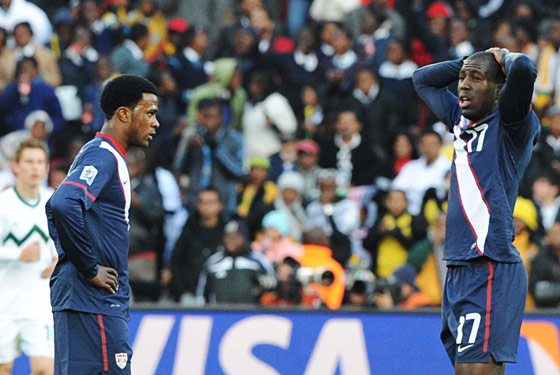 Josh Dean, one of the founding editors of the late PLAY, The New York Times Sports Magazine and occasional sportswriter for Rolling Stone and Outside, will be writing every weekday for The Sports Section about the World Cup. Today … that horrible, horrible call.
Before I launch into a screed in which I will likely lose my temper, my sense of decorum, and quite possibly my train of thought, I would like to make this observation: We dug that hole. The first half of this game was maybe the worst half I've ever seen this incarnation of the U.S. national team play. Bob Bradley made but a single change from his more defensive lineup versus England, but by adding Jose Francisco Torres to the mix he signaled that he wanted his side to play an attacking game. Somebody missed the memo. The U.S. game plan for most of the first half seemed to be to run around chasing Slovenians, eventually break up a pass, and then immediately boot it as far forward as possible, where Robbie Findley would chase it futilely to the end line. It was awful. It was ugly. And I'm not even talking about the defense.
As good as Oguchi Oneywu was in the last game, that's how bad he was in this one. Not only did he have a wooden touch and a look of fear every time the ball fell to his feet, but he had a hand in both Slovenian goals. He gave Valter Birsa about fifteen minutes to uncork a rocket that fooled Tim Howard in the thirteenth minute, then botched an offside trap that led to a breakaway on the second. A friend of mine who doesn't watch as much soccer as I do asked me, "How the hell does that guy play for AC Milan?" and I honestly didn't have an answer. I thought our defense would have a giant Abe Lincoln–beard-size hole without him in the lineup, but now I wonder if the holes aren't bigger when he's in there. Once Maurice Edu, a scrappy smaller guy, took over, we looked far more composed.

"That could not have gone worse," I wrote to a friend at the half. His answer said it all: "Shitty passing. Terrible finishing. Awful defending. Shit."
Then the second half happened. I'm not sure what Bob Bradley (who is about as emotional as his doppelgänger Skeletor) said to his team at halftime, but it was a different group of guys who showed up for the second 45. They weren't perfect — Donovan, Dempsey, and Bradley are a skillful enough midfield to control the play more, for one thing — but they took the game to Slovenia, and for much of the half the U.S. was threatening. It seemed only a matter of time until we scored at least one goal and there it was, just five minutes in, when Donovan took a ball from Cherundolo, dribbled into the box and then decided to shoot from what seemed like an impossible angle. He hit it perfectly. The goalie went to the ground and Donovan fired upwards, drilling the ball into the top of the net. Asked afterward what was going through his mind, he said: "My first thought was to pass but at the end I took a touch and decided to aim at his head." I love it.
The lead cut to one, the Slovenians began to look even more desperate. They wasted more time than a crew of union guys on a Hackensack job site. They hacked and grabbed and mugged American players again and again, piling up yellow cards as fast as Malian referee Koman Coulibaly could hand them out. (He also found time to give one to Robbie Findley after the U.S. striker played the ball with his chest. His chest! It was inexplicable and means Findley now must sit out a game.) In the 67th minute, a Slovenian defender actually tackled Jozy Altidore at the top of the penalty box in full view of Coulibaly, who went to the yellow yet again on a call that clearly should have been a red — if Altidore gets through, he's one on one with the goalie. That is a red card. End stop.
But oh boy: Little did we know that Coulibaly's poor judgment was just getting warmed up.
More furious play led to a second U.S. goal after Altidore — who often forgets that he's bigger and faster than any defenders he matches up against — headed a perfect ball to Michael Bradley (for the second straight game, Bradley was everywhere) that the coach's kid tapped over the keeper. And we were all square.
I'll stop here and say that I should be pretty happy with a two-goal comeback against a defensive team in a sport where two-goal comebacks almost never happen. (Only four other teams have ever recovered from a 2–0 deficit at halftime at the World Cup, and if you watched Spain take about 2,000 shots on goal when down to Switzerland, you realize how precious a goal can be.) And I would be were it not for what happened after we tied the score.
Coulibaly flat out stole the game. His instincts were terrible for the entire 90 minutes, but his decision to disallow the U.S. team's third goal — an easy tap-in by Edu off a beautiful free kick from Donovan — was one of the worst calls I've ever seen in a game.
An official should never factor in the outcome of any sporting event, and yet this moron put himself front and center in a call that was every bit as awful as the one that cost Tigers pitcher Armando Galarraga his perfect game. The stakes could not be higher. Sure, there's still a lot of soccer to be played, but it is very possible that Coulibaly's call could cost the U.S. team a spot in the second round. This man shouldn't be allowed anywhere near a game in the future, unless it's playing the role of Tyrone Hill in Brian Grant's future opus, "Jesus Is Our Sixth Man: The Untold Story of Xavier Basketball."
I watched this match at Jack Dempsey's bar in midtown, home base for the American Outlaws, one of the largest groups of U.S. national team supporters, and the experience was awesome. It was appropriately solemn for the first 45 and absolutely bananas for the second. I'm not sure I've ever heard a more jubilant roar than the one that erupted after Bradley's goal. It was catharsis, complete with un-self-conscious male hugging and gallons of spilled beer.
A similar roar occurred after the non-goal, but I caught the referee's wave out of the corner of my eye and pointed to the screen. It said "offside" and a replay showed that that couldn't be. The only player who could possibly have been offside was Bradley, who not only was onside, he was being bear-hugged from behind like a very unwilling participant in some Slovenian's prom photo. Later the referee seemed to indicate that Edu had fouled someone en route to the goal, but whom exactly he fouled remains unclear.
I didn't go into this game with any preconceived notions about Slovenia or its players — I'd only seen any of them play once, last Friday — but such is the raw, nationalistic emotion drawn out by the World Cup that the first text I sent after the game blamed the loss on them. I'll share it with you, even though it makes me look like a jingoistic asshole. It said: "Those dirty, hackish, time-wasting, Eurotrash shitbags got a gift!"
Actually, they did get a gift. And they did play dirty and hackish and wasted at least ten minutes by casually strolling to balls, pulling up socks, and tousling with bangs. (They also soundly beat us in the first half, but we're past that now.) Come to think of it, I guess the only part I take back is the Eurotrash crack. If you disregard the green Charlie Brown shirts, and the George McFly hairdo on that center forward, the Slovenian side was just another bunch of guys playing for national pride. Sure, one or two might sunbathe in a thong while listening to nine-hour trance sets, but I'd also guess that most of them have better musical taste than Michael Bradley. Can you imagine what that dude has on his iPod? I'm thinking Train.
One last thing: I firmly believe this is the best U.S. team I've ever watched. We are more skillful at every position and finally seem to have players who believe they can beat anyone. That said, no team that requires adversity in order to start playing its best is going to succeed in the long run. The whole time we were down — first by one goal, and then two — John Harkes and Ian Darke kept talking about how the U.S. "can take a punch" and come back. Yes, it's an admirable quality to be able to take a punch and get back up. But you know what's even better? Not getting punched in the first place. It's exciting and all to be pulling out my arm hair for 80 of every 90 minutes of a U.S. game, but just once it would be nice to play with a lead. Please?
Speaking of poor refereeing. I would be remiss to not briefly mention that first game, in which yet another boneheaded referee — this one from Spain — influenced the result. He handed out five yellows, nearly all of them on rough but not card-worthy tackles, including two to Germany's star striker Miroslav Klose, resulting in a red card. The Germans had to play a man down the rest of the match and now will miss their best goal-scorer for the final match of the first round, suddenly a must-win versus Ghana. Granted, if Lucas Podolski doesn't blow a penalty kick, they'd have escaped with a tie, but poor refereeing managed to stifle the team that dazzled us all in the first game. And that sucks.