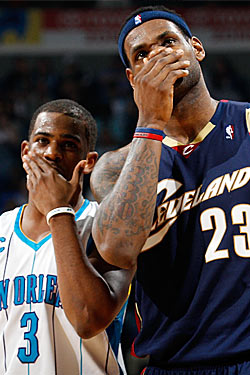 July 1, 2010, has been circled on the calendars of Knicks fans for years now, and it's finally almost here. In today's LeBron roundup, World Wide Wes suggests teams trade for Chris Paul, and David Lee waits patiently.
• Yahoo's Adrian Wojnarowski reports that, according to sources, William "World Wide Wes" Wesley has been telling teams that trading for Chris Paul would "dramatically increase" (Wojnarowski's words) their chances of landing LeBron. Not that New Orleans necessarily wants to trade him, but this wouldn't help the Knicks, who, for all their cap space, don't have much to offer in return. Wojnarowski reports, however, that the Nets would be willing to part with the No. 3 pick in Thursday's draft and anyone on their roster except Brook Lopez.
• The Daily News, making no mention of World Wide Wes and his grand plan, also reports that the Nets are pursuing Chris Paul and have offered Devin Harris and the No. 3 pick.
• David Lee says that he'll have to wait and see where the elite free agents end up before knowing where he'll land, but for what it's worth, he thinks he and LeBron would fit well together on the Knicks — though that could really only happen if the Knicks signed James, and no one else, to a max contract.
• And finally, should LeBron decide to pull a Jordan and take up Minor League baseball, the Lake Erie Crushers have offered him a max contract, which under Frontier League rules is worth $1,600 a month. Next Wednesday, they'll hold Keep LBJ in the C-L-E Night, and in honor of James, all players will change their number to 6 for the night.