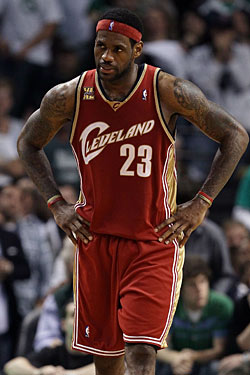 July 1, 2010, has been circled on the calendars of Knicks fans for years now, and it's finally almost here. In today's LeBron roundup, Mark Messier explains that leaving home for the big city can pay off, and LeBron says words for you to misinterpret.
• Appearing on Ian O'Conner's ESPN Radio show yesterday, Mark Messier — a legendary player who left his hometown team for New York, albeit via trade — talked up the benefits of playing here. Said Messier: "There'll be other great offers from all the teams when he goes on tour, but in the end, I can't imagine it being better than New York." He went on to explain that fathers and sons still stop him on the street here to thank him for the Rangers' Stanley Cup victory in 1994.
• Speaking of Akron, James made an appearance at that city's LeBron Appreciation Day on Saturday, though he showed up and made his remarks after the event had officially ended. Here are LeBron's comments; interpret them however you wish: "Akron is my home, it's my life. Everything I do is for this city. I'm going to continue to do great things. I love every last one of you all. Akron is home."
• And speaking of the Rangers, at least one beat writer worries that the Garden could be too focused on LeBron to worry about its other tenant and NHL free agency, which also begins July 1. Rick Carpiniello compares it to the summer of 1997, when Patrick Ewing's free agency took precedence over Messier's. It's worth noting, of course, that unlike the Knicks, the Rangers don't have much room to maneuver under the salary cap anyway.