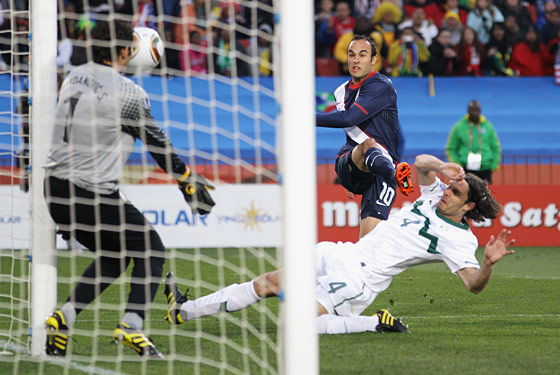 We don't want to hear from anyone, ever again, that soccer is boring. Jiminy Christmas, that USA-Slovenia game darned near gave us a heart attack. It ended up being a tie, and the United States, considering how bad it looked in the first half, should be happy with that … but had it not been for an inexplicable call, they would have won this blasted thing.
One man who's happy soccer isn't as much of a national passion in the United States than it is in, say, Colombia: Koman Coulibaly. The Mali referee called … something on a late goal by Maurice Edu that would have given the Americans the win. It was a call that, to these eyes, was worse than anything Jim Joyce or (sigh, it's true) Don Denkinger ever did; coach Bob Bradley afterward confessed he had no idea what the call even was. We don't know either.
You don't want to blame the ref for a draw, particularly when the U.S. pretty clearly deserved to lose the way they played the first half. But after such a stirring comeback, after a thrilling, epic game … well, as Joe Posnanski wrote in SI last week, in soccer, every goal is a kind of miracle. When you go through all the trouble of scoring one, of coming all the way back, only to have it disallowed for reasons that still nobody understands … well, Koman Coulibaly is lucky you won't know his name the way you know Jim Joyce's.
The U.S. can still advance to the next round, but they might need some help. England and Algeria play at 2:30 p.m. today, and you need to cheer for a draw, or, at the very least, for England to win by only one goal. But we're not ready for any more soccer just yet. That wore us out.