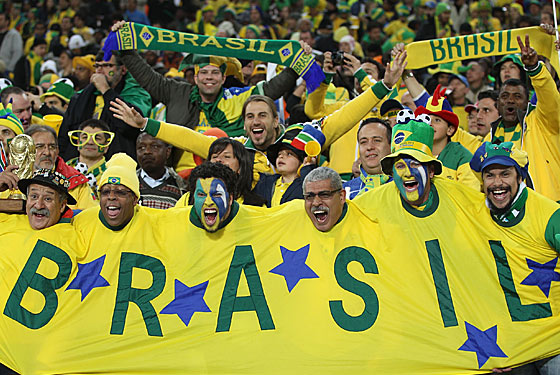 Josh Dean, one of the founding editors of the late PLAY, The New York Times Sports Magazine and occasional sportswriter for Rolling Stone and Outside, will be writing every weekday for The Sports Section about the World Cup. Today, the death of France, and the United States' return to action.
I was hoping for more from Brazil versus Ivory Coast. I like the Elephants a lot; I've been saying they could beat anyone. And I still believe that. I've also been thinking that this is a weak Brazil team, and that might be true, but the problem is, it's Brazil. And a weak Brazil is still better than most teams in the world. Plus, they have the best fans. I watched the game (wearing an Ivory Coast T-shirt) at Barzinho, a Brazilian bar in Tribeca, and those are the most fun, least self-conscious people around. Dance parties erupt during commercial breaks. I just kept thinking: The next World Cup is going to be bananas.
If only the game was so satisfying. It was more even than the 3–1 score would indicate. The Ivory Coast is stacked with European stars, and even controlled play for stints, but they obviously weren't the better team in the sense that they didn't seem to be stressing the Brazilians at all. (I'm starting to wonder if it's possible for Brazilians to be stressed.)
In the end, I think it comes down to one thing: Brazil can score. They finish opportunities better than any team in the world. They might not play as beautifully as the people back home want them to, but they're damn effective. And they might still win this thing.
But I'm still sticking with the Dutch.
Viva South America!. South America wins the weekend, and the Cup so far. Teams from our continent to the south are undefeated in the tournament and have outscored their collective opponents 17–4. The bunch is so dominant at the moment that Brazil, Argentina, Paraguay, and Uruguay lead four of the eight groups (Uruguay is tied with Mexico; it is pretty much part of Latin America, if not technically on the continent), and my personal power ranking after two games played would probably go Argentina and Brazil one-two, followed by the Netherlands, the team I picked before this thing started.
Meanwhile, the Europeans are a hot mess. At the moment, the Dutch are the lone bright point for Europe, which brought thirteen teams to the party. Sure, the Germans looked great in their first game and can at least partly blame poor refereeing for slowing down what looked for one match like an unstoppable offense, but the fact remains that the Germans lost to Serbia and now must beat a tough Ghana side just to ensure a spot in the second round.
The Spanish actually looked pretty good in a loss to Switzerland, still the tournament's biggest upset (they had the most touches of any team in the field, according to that terribly wonky and yet totally cool rankings sheet the Times printed yesterday) and probably feel at least decently confident of winning their next two matches. Still, they probably need to beat Chile, and that's not going to be easy. That is a match you're going to want to watch.
And the other favorites from across the pond? Oh, man, is that a dysfunctional bunch. Let's start with the French. Les Bleus came stacked with talent but didn't even make it to the third match before the team imploded. After losing to Mexico, starting striker Nicolas Anelka launched into coach Raymond Domenech (a man with caterpillars for eyebrows, who has admitted to consulting astrology in his personnel decisions) and was sent home. Then the team refused to practice, the French Football Federation's director resigned, and team star Franck Ribery said, "Everyone in the world is mocking us now." The worst part? They still have a game to play.
The Italians also have a game remaining, and it's only marginally less painful in the Azzurri camp. They were lucky to tie Paraguay in the opener and even luckier to tie New Zealand, supposedly the worst team in the field. After going down a goal, Italian midfielder/jackass Daniele De Rossi took a dive in the box and drew a penalty kick. It was shameless and shitty — commentator Ruud Guillit went so far as to call the team "cheaters," at halftime — but hardly unprecedented. You need only look back as far as 2006, the last time Italy faced a team from Oceania at the World Cup; that time it was defender Fabio Grosso who took a dive, drawing a penalty to knock out the Aussies. Italy, of course, went on to win the tournament. Dicks.
The Italians are an infuriating side, and not just because I hate them. The team is often still capable of competent play and should be able to beat New Zealand — New Zealand! — without resorting to dirty tactics, but the thing is I'm just not sure these guys know how anymore.
I'll distill Italy's strategy for you now.
OFFENSE
PLAN A: Kick it around a bunch and hope for header or maybe an own-goal.
PLAN B: Take a dive and draw penalty kick. Win 1–0.
DEFENSE
PLAN A: Trip, hack, and otherwise impede all attackers, eliminating skillful play.
PLAN B: Holy crap, is that guy open? Elbow him in the head!
That leaves us with the English. I don't want to pick on the English, but suffice it to say that the team tied Algeria, playing the kind of uninspired soccer that does not go over big in Milton Keynes. Fans booed and nearly rioted; one reportedly breached security to enter the team's locker room and register his disgust. I bet the Queen burned her John Terry doll. And yet England controls its destiny. Beat Slovenia and they're in. Lose, and David Beckham will sacrifice his eldest son, Staten Island.
Africa is almost out of Africa. I hate that this is true, but it's possible that all five African teams will be bounced before the second round. The best bets to survive for the elimination rounds are Ghana and Ivory Coast, but the former needs to beat or tie Germany and the latter — which has at times looked great — needs to shellac the North Koreans, while hoping that Portugal pulls a France/Italy. That certainly seems possible.
The forgotten continent! Hey, look at Oceania! The Socceroos — a.k.a. Pat Cash's favorite team — got absolutely demolished by the Germans only to rally and tie Ghana, despite playing a man down for the second straight match. They're still alive, even if the odds aren't great. Keep hopping 'roos!
The All-Whites of New Zealand, however, are sitting even prettier. They scored in the last second against Slovakia, stealing a tie from the jaws of defeat, and then held on against the shit-bags, I mean, Italians, and are now tied for second and in position to advance if Italy can pull a France. Let's go Slovakia.
Today's action. At the time of this writing I did not yet know if Portugal had beaten North Korea, or had surrendered like a couple of freelance TV reporters who "accidentally" wandered across the border. I was pulling for the commies.
The rest of the day brings us another look at Group H, which is all kinds of messed up thanks to Switzerland's upset of Spain, the tournament's top seed. It's entirely possible that three teams in this group go 2—1, in which case FIFA will have to resort to its controversial tiebreaker: One player from each team is asked to write an essay based on a theme of Sepp Blatter's choosing. For example: "Please explain why so many Argentines still insist on playing with ponytails." Malian referee Koman Coulibaly will then select the best essay, set it aflame, and name Slovenia winner of the group.