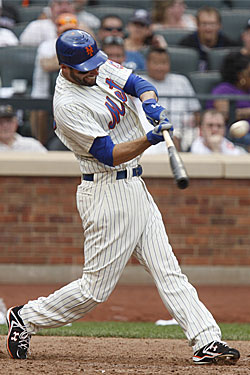 One of the Mets' slogans this year is "We Believe in Home Field Advantage," and unlike some of their other slogans — "We Believe in Getting Dirty," "We Believe in the Orange and Blue in You" — this one's statistically provable. After finishing off a sweep of the Marlins yesterday — and improving their record at Citi Field to 22–9 — you have to wonder once again: What if the Mets also believed in winning on the road?
Jeff Francoeur played the hero yesterday, tying the game in the seventh with a three-home home run. Then in the eighth — thanks to some questionable defensive positioning by the Marlins infield — the Mets plated the go-ahead run when, with the score tied at 6, Alex Cora scored as the Marlins turned a double play on Ike Davis's ground ball. (Another 2010 slogan, by the way: "We Believe in Comebacks.") Of course, this being the 2010 Mets, this weekend's drama wasn't limited to the action on the field.
The Mets had originally hoped to send Oliver Perez down to AAA Buffalo, but he'd refused the assignment (which he's entitled to do). As recently as Thursday, Perez told reporters that he was healthy, but with the team needing to open up a roster spot for Jon Niese, the Mets placed Perez on the fifteen-day disabled list. (Jerry Manuel said Perez had complained of knee plain on Friday.) This could, of course, be a legitimate injury — he wouldn't be the first Met to claim he was healthy when he wasn't — but Major League Baseball found the timing convenient enough that they've reportedly asked the Mets for Perez's medical records, including the MRI he underwent on Friday.
Next up for the Mets is a three-game set against the NL-best Padres, starting tomorrow night. San Diego took two of three when the teams met last week on the West Coast — and both losses were of the painful variety — but at Citi Field this year, anything is possible.