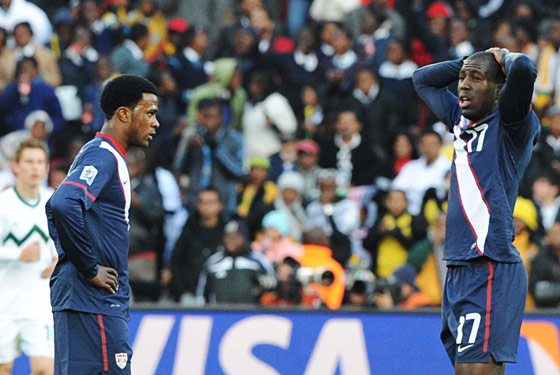 Josh Dean, one of the founding editors of the late PLAY, The New York Times Sports Magazine and occasional sportswriter for Rolling Stone and Outside, will be writing every weekday for The Sports Section about the World Cup. Today … that difficult loss.
Moral victories suck. As the minutes melted away on what, for a fleeting moment seemed like America's great chance at World Cup glory, commentator Ian Darke kept yammering on about how the U.S. players should "keep their chins up." To be fair, he wasn't trying to be a patronizing ass. It's true that a U.S. team that won its group and came back to force extra-time in the Round of 16 should be proud. Advancing beyond the first round is success by almost any measure, if you're Team USA. But that's what's so frustrating. It just feels like we're at the point where moral victories are not enough anymore. I think I'm ready to say that this loss was a gigantic disappointment, no matter how proud our team may have made all those people out there who previously couldn't care less about soccer.
I wrote after the Slovenia game than any team that requires adversity in order to thrive is bound to fail at some point. It doesn't matter how tough you are. You just can't keep putting yourself under pressure and hope that — yet again — grit will win out. For the 1,000th game in a row, or maybe just the third, our defense shit the bed, gave up an early goal, and there we were again — chasing chickens around the yard. The infuriating thing about this team is that it was so schizophrenic. I came in expecting the defense to cost us games, and in a way it did. Jay Demerit, Steve Cherundolo, and Carlos Bocanegra all had mental lapses that contributed to goals. But they also all had great tournaments.
And that was just a microcosm of the team as a whole. The U.S. team that played Ghana in the first half was tentative, jittery, and hackish. The Black Stars toyed with us, playing with swagger. Then came the half. The U.S. team that emerged from the locker room was entirely different. From the first minute of play, we controlled the play, looked sharp and fit and creative, and we had the Black Stars on their heels. For the third-straight game, midfielder and black glove enthusiast Benny Feilhaber came on and enlivened the attack, allowing Clint Dempsey to move up top alongside Jozy Altidore and freeing up both Landon Donovan and Michael Bradley to move freely and create chances. You have to wonder why Bob Bradley didn't try this alignment at the start, at least once. (You also have to wonder why he put Ricardo Clark out there again — but what's the point now of kicking a man while he's down?)
The U.S. team reborn, it was only a matter of time until we scored, and after Clint Dempsey (on a nice buildup from Donovan and Feilhaber), drew a penalty kick that allowed Donovan to equal the score, you just had the feeling that the U.S. was going to do it again. I caught myself thinking we might actually tack on two or three more. Ghana looked tired. Donovan and Bradley looked like they could run another four hours. Time and again we threatened the Ghana defense. And time and again we were thisclose to finishing. Mensah Kingson made the save of his life on a Feilhaber shot. Altidore barely missed while falling down.
By the end of regulation, the game's momentum had swung so dramatically toward the U.S. that it didn't even occur to me that we could lose. In my mind, the worst case scenario was penalty kicks, and I'd already decided the difference in that scenario would be Tim Howard.
Then we took a break before extra time and the U.S. team dug itself another hole. A seemingly harmless long-ball split Bocanegra and Demerit, and Asamoah Gyan made one hell of a play — first, by staying on his feet despite stumbling forward, and then by managing to loop a ball over Howard, who went low expecting a weaker shot. It was the only real mistake we made after the half and yet was exactly the kind of mistake the defense made just often enough to hurt us.
The worst part of this, as you are surely going to hear AGAIN AND AGAIN, is that the U.S. national team is probably never going to have a more favorable route to the semifinals of a World Cup. Our draw was clear of all of the world's powers, and if only we could beat Ghana, well, who gives a fuck now — we didn't beat Ghana.
Hey, there's always this: Only two years until we start playing qualifiers for Brazil!