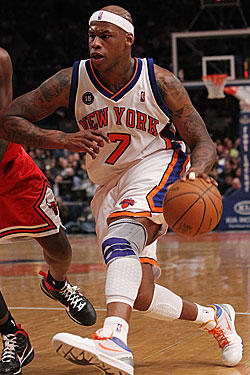 The Denver Nuggets signed Al Harrington to a five-year, $33.4 million contract yesterday, ending Harrington's career as a Knick. Like everyone who has played for the Knicks since Donnie Walsh and Mike D'Antoni took over, his departure is noted and not lamented. No offense, Al: You guys were all just placeholders in the first place. We wish you luck but never really considered any of you guys part of the real long-term plan, not really. Still: Al's a little upset.
He's saying that the reason he's gone is not because the Knicks would have no reason to pay a 30-year-old the money the Nuggets are paying him … but because Mike D'Antoni didn't like him.
"Hell no," Harrington said Wednesday. "He definitely didn't want me back. That was the most obvious thing of all. We all knew that he didn't want me to be there."

This is probably true, but not as offensive as D'Antoni meant it: He, like the rest of us, needs the Harringtons of the world to just move along now. We wouldn't have any problem with any of this if Harrington weren't going to Denver to spend two years telling Carmelo Anthony just how much of a jerk Mike D'Antoni is.