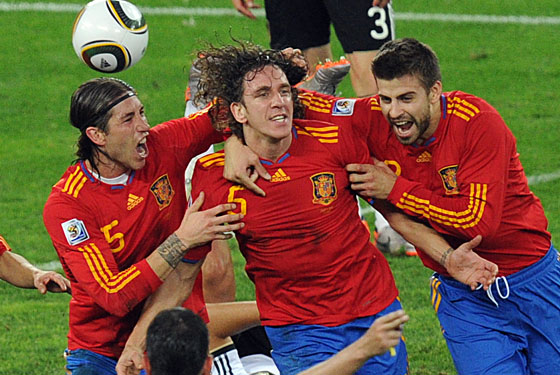 Josh Dean, one of the founding editors of the late PLAY, The New York Times Sports Magazine and occasional sportswriter for Rolling Stone and Outside, will be writing every weekday for The Sports Section about the World Cup. Today … a look at Spain's waltzing into the World Cup finals.
Now, I don't claim to be a clairvoyant mollusk, but I'd like to point out that I picked the teams we'll be watching in the World Cup final way back before this tournament started — and not just as a bar gag. (Editor's Note: So did we!)
Of the two picks, Holland was the slight gamble — because the team had Brazil in its draw and because the Dutch have a way of collapsing at inopportune times. Spain was an easier choice. La Furia Roja has been dominating international soccer for the past three years, winning the 2008 European Championships and every World Cup qualifier with a dominating form of possession soccer that will now be giving Germany nightmares for months.
I don't fault anyone for jumping on the German bandwagon. Unlike previous iterations, Germany didn't play mechanized soccer that bored opponents into submission. This team was fun to watch, when playing well, and featured an international cast of characters that was anything but a collection of Teutonic drones. But I just had a feeling it was also a bit of a mirage.
The Spain it ran into in Durban was masterful and exposed the Germans for what I suspected they were — a solid but not awesome team with a one-dimensional attack. One of the hoariest of sports announcer clichés is to say that a player or team "put on a clinic," but I'm not sure there's a better way to describe what Spain did in yesterday's match. The halftime stats revealed that Spain controlled the ball more than 60 percent of the time, but I'm fairly sure that's a mistake. It seemed to me that Germany touched the ball all of once or twice, and if you had told me Spain had the ball 85 percent of the time I would definitely have believed you.
Midway through the game, my friend Austin asked me what I thought non-soccer fans might be thinking. "Do you think they find this boring?" he asked, as we sat slack-jawed over Spain's ridiculous control of the ball. I think it's possible that they did, and I guess you could start to glaze over watching one team playing keep-away for 90 minutes, but for me what the eleven Spaniards — seven of whom play for FC Barcelona, along with Lionel Messi*** — were doing was beautiful.
So many things stand out about the way this team plays, but most impressive to me is their touch. No ball is too low, or high, or hard to be deadened and dropped to the feet, where it is immediately dribbled or passed with great care. They trap with their feet, ankles, knees, heads, and shoulders. They also pass with all of these parts, as well as their chests, and watching effectively deployed chest passes conjured memories of chest-pass practice at soccer camp when I stood there awkwardly deflecting balls off my bony teen chest while thinking, "This is stupid. Who would make a chest pass?"
Many moons later, I have my answer. Spaniards!
It must have been infuriating to be a German player — who just days before had enjoyed an utter demolition of a team of Argentine stars — to be chasing the ball in circles for minutes at a time. The Spanish side is so cool and collected. They have no problem passing the ball to a player who is double or triple-teamed because (1) he will receive it and not freak out, and (2) this is how you free up other players. When those defenders collapse, he just turns and passes to space, where a player in red will have materialized, and on goes the chase.
To be fair, Germany doesn't try to play possession soccer, and I remain impressed by the efficiency of the team's attack. It threatened the goal only two or three times per half, but each of those threats was genuinely threatening, and it's not inconceivable that Germany could have led or tied this game, despite being out-classed from the opening whistle.
Spain surely frustrates its fans. The team specializes in the 1–0 rout, and that does not leave much room for error. And for all of the triangles and parallelograms that led to runs into the German box, the game was decided on a play that, as my friend noted, "had absolutely nothing to do with the game."
Typically, Spain doesn't deign to score on set pieces. (That's how less talented teams score.) The team's typical corner-kick strategy is the short kick, which then begets a series of tricky passes that aims to free a player. Sometimes it seems complicated just for the sake of being complicated, and the one thing that consistently bugs me about Spain is this insistence on perfection at all times. My feeling is, once you're in the box, it's go time. Shoot the fucking ball. Or, if you have a corner, kick it into the box and hope for a header.
Anyway, in this case, the Spanish actually took the corner, and who should save the day but — more cowbell! — Carlos Puyol, the retired Motorhead roadie who put his curly snap-on Lego hair to great use, bonking the ball into the net and providing the game's lone goal. Puyol is often said to be the weak link in Spain's game, an aging defender who can be burned by quick attackers, but in this game he was revivified. I half suspect that Lemmy messengered over some blow for old time's sake because the dude scored a goal and barely missed another, while also defending like a fiend.
Frequent cuts to the teams' benches by the TV coverage exposed the difference in stress levels. Joachim Low and his Mini-Me spent the first half in matching fitted blazers, staring stone-faced at the pitch. In the second, they continued to stare stone-faced at the pitch, but had stripped down to their matching blue cashmere V-necks to illustrate their concern. Meanwhile, over on the Spanish side, Vicente del Bosque looked as if he was nibbling from a plate of jamón on his lap and had just stubbed out a stogie.
I can't really fault Low or the Germans in the end, because I'm honestly not sure what they could have done differently. It's not that they played badly; they just never had the ball. And it's hard to win when you're just running around.
Maybe you are thinking this: Josh Dean, you have just written a love letter to Spain. Will you now, in the waning moments of the greatest sporting event on earth, turn on your word and pick Spain to win, because that's the kind of spineless, bandwagon-chasing turncoat that you are?
I will not. I picked Holland and I'm sticking with them, even though the Spain I saw today looked like an eventual World Cup champion. Whatever happens at Soccer City on Sunday, one thing is certain: As of Sunday, we'll have a first time World Cup champion, and the streets of Madrid or Amsterdam will be positively ape-shit.
The World Cup is awesome and I'm going to miss it.
***And you think the Yankees are stacked. My question to Austin was, "Do you think any of these national teams could beat Barcelona?" He thinks no and I have to agree.
A note on unruly fan behavior: The third minute featured what soccer people call a "pitch invasion" — that would be the dude who ran on the field in the middle of play. Done well, these drunken fan excursions can be exciting (in a train wreck-y kind of way), but this one was disappointing for a couple of reasons. (1) The guy went through all that work to get down there, knowing he'd be mauled in the end. Why the hell is he not naked? (2) If this guy is going to run straight into play, so that the cameras can't help but capture him, why did the guards not maul him? They basically tapped him on the shoulder and walked him peacefully off the pitch. Where, to be fair, I did see him being carted away like a tranquilized grizzly.