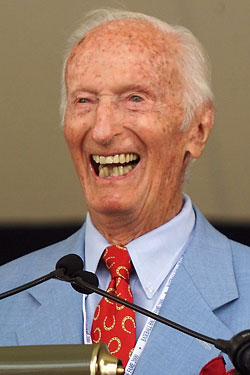 Bob Sheppard — the Voice of Yankee Stadium (and Giants Stadium, and Alumni Hall) — died yesterday at the age of 99, and the way we see it, an appreciation of Sheppard should be divided into two parts.
The first would push sentimentality aside for a moment and focus on how technically perfect Sheppard was at the art of public-address announcing. Sheppard once said that his job was to be "clear, concise, and correct," and he succeeded on all counts. No drawn out last names, no whooping it up, no nonsense. Sheppard delivered starting lineups at Yankee Stadium the same way he delivered readings at his local parish. By all accounts, this was just how he spoke, all of the time. (There's an amazing line in his Times obit, in which Sheppard recalls once ordering breakfast thusly: "I'll have the No. 1. Scrambled eggs, buttered toast and black coffee. No. 1.") For more than 50 years, he made attending a Yankees game feel just a little bit classier than it probably ought to have felt.
But the second part of the appreciation is this: Most Yankees fans alive today never saw Babe Ruth or Lou Gehrig play baseball. They are men in black-and-white photographs, or in a book, or on an episode of Yankeeography. This Yankee fan grew up learning all about the career of Joe DiMaggio, but saw him in person just one, throwing out the first pitch on Opening Day in 1994. We never saw Mickey Mantle with our own eyes, and Whitey Ford and so many of his contemporaries are, in our personal memory, Old-Timers' Day mainstays rather than World Series heroes.
The Yankees, more than any franchise, celebrate their history and their glory years — of which they have many. And Sheppard did more than serve as a common thread through those generations — introducing names from Phil Rizzuto (the shortstop for Sheppard's first game on April 17, 1951) to Derek Jeter (the shortstop at the last game at the old stadium in 2008, for which Sheppard recorded the introduction of the Yankees lineup). He was a part of Yankees history, and a generation of fans knew they were hearing the same voice welcome them to Yankee Stadium that welcomed their fathers and grandfathers. Even as the teams changed — even as the stadium itself changed — Sheppard remained constant.
It probably upset us at the time, but we're sort of glad that when the new Yankee Stadium opened last year, it wasn't Sheppard's voice that introduced the first lineups. Those duties were handled by Michael Kay and John Sterling, more colorful voices for a more colorful ballpark. In the old place across the street, Sheppard was as much a part of the building as the black seats and the narrow walkways, and it's only fitting his final lineup, even one delivered via recording, came on the day it shut its doors for good. That building's since been torn down, and now Sheppard's gone, too. But neither will be forgotten.