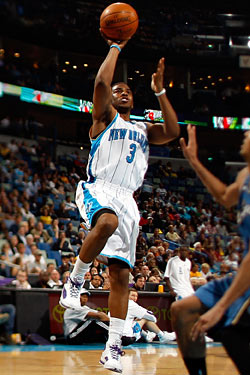 With the NBA landscape slowly turning into Superstars Playing Together With Other Tall People Occasionally Bounding About As Well, it was inevitable that Chris Paul, with a franchise that's hemorrhaging money and players, started to make it clear he wanted to leave New Orleans. But a report yesterday said he wants this done sooner rather than later, and that he'd love to go to the Knicks. So!
First off, here's the Seriously, Paul's Really Serious This Time quote:
"He wants out," said the person, who has been briefed on Paul's strategy but spoke on condition of anonymity because he was not authorized to discuss it publicly. "He wants to play with another superstar. He wants to follow LeBron's model of teaming up with other great players."

The teams Paul is targeting: the Knicks, the Lakers and the Magic. We find it a bit surprising to see the Knicks included in that group: One team that has won two straight titles, one team that was in the NBA Finals a year ago, and … a team that hasn't had a winning season since 2000-01. One Amar'e — and one potential Carmelo — makes a lot of difference, apparently. (Though, cap-wise, if Paul comes, it's difficult to see how that's possible.)
The Knicks certainly wouldn't be the favorites here. (Predictably, Bill Simmons is pushing the Celtics.) The Magic seem the ideal fit, unless Paul really thinks he can figure out the Paul/Anthony/Stoudemire thing; that team has weapons that any point guard would lust after. If the Magic can't work something out, though, the Knicks' offer would have to be … well, let's fire up the Trade Machine and find out.
Certainly, the Knicks would have to trade one of their best young players, in this case either Danilo Gallinari or Anthony Randolph. To make the salaries work, they'd need to throw in Eddy Curry's expiring contract, and then add another good player or two, maybe Ronny Turiaf, or Wilson Chandler, or even Bill Walker. Would that be enough? You wouldn't think so. Clearly, the Knicks would be getting the better of that trade, and in a perfect world, the Hornets would never make it. But if Paul forces their hand, they may have no choice.
There is something untoward about getting a player because he has grown tired of his current franchise; it's like being someone's younger second wife, fully aware that someday you will grow older and become "disposable," too. (Particularly when that first wife is New Orleans.) But the Knicks will take what they can. Donnie Walsh has put the franchise in a position where trading for Chris Paul is at least a possibility. This is progress. Tantalizing, sinful progress.