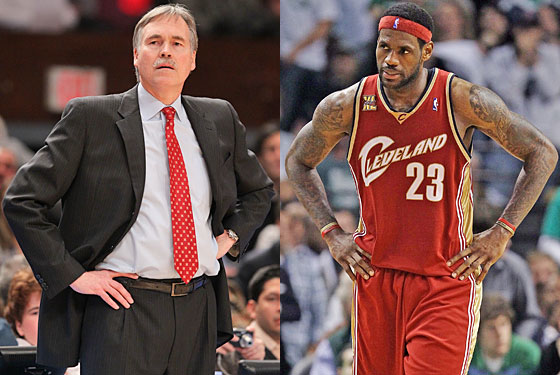 The Knicks might have lost the billboard war to the Nets, but boy, they sure have them beat in the Face Time With LeBron game. Mikhail Prokhorov and the Nets brass made their presentation to LeBron in about an hour, according to Brian Windhorst's invaluable Twitter. The Knicks went nearly three hours and, says Windhorst, required "a van to haul presentation gear in." Well, they've had plenty of time to work on this, so we're glad they put it to good use.
LeBron had no comment to reporters after the Knicks' meeting, though one imagines his main comment was, "Damn, I gotta pee." D'Antoni, for his part, said, "We hope we put him in a New York state of mind," and we can only hope the presentation itself had more wit than that. (D'Antoni's always a lot funnier when he's being mean.)
ESPN's Ric Bucher says LeBron will announce where he's going on Monday, and it's beginning to feel like that's an awfully long time away, considering how quickly other free agents are signing. Rudy Gay, considered one of the Knicks' Plan C/D/E options, has re-signed with the Grizzlies. (Oh, crap, Darko's gone too! May we remind you that the T-Wolves just gave $20 million to a guy the Knicks traded for Brian Cardinal.) But Donnie Walsh says he expects another meeting with LeBron, which will be … well, no one knows, exactly. The Knicks are also supposedly meeting with Amar'e Stoudemire on Monday as well. Busy times.
But the meeting went almost three hours. We've sat through some nearly three-hour meetings in our lives, and we'll say if LeBron can sit in a room with people who just made him sit and listen for nearly three hours, that's an excellent sign. But, of course: Nobody knows anything, as always. Let us all sit and wait some more.