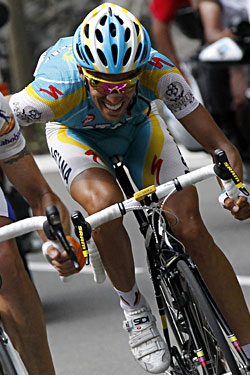 Sports Section bicycling correspondent Jada Yuan grew up watching four-hour silent Japanese feeds of the Tour de France because her dad needed more than ABC's meager coverage. She'll be writing about the Tour (or TDF) until it ends on Sunday, July 25. Today's installment: Mind games.

Alberto Contador is the new Tour de France leader. Today, in the second day in the Pyrenees, just as yellow jersey-clad Andy Schleck was attacking Contador on a climb, the chain came off Schleck's bike. As he fixed it, Contador raced ahead. Schleck is now eight seconds back, which does not bode well for his chances to win in Paris. He had to expend massive amounts of energy to get back in contention, and even Lance Armstrong, who has not had the best of relationships with Contador, thinks Schleck needs at least a 90-second lead on Contador going into the last time trial to win. "I think the smart money is on Alberto," Armstrong told VeloNews yesterday, when Contador was 31 seconds behind Schleck.
Let's review the last few days.

What happened: Stage 12. Contador gains time. Route: Bourg-de-Péage to Mende. Terrain: Intermediate climbs ending on the Category 2 Croix-Neuve, the steepest climb in the Tour — 3.1km at 10 percent grade and three switchbacks as steep as 14 percent. Distance: 210.5 km (131 mi). At 64km there was an eighteen-man break containing Contador's Astana teammate Alexandre Vinokourov (fourteenth place), who is riding the Tour for the first time since a positive drug test in 2007 and was hungry for a stage win. Vino, as he's nicknamed, managed to drop all the remaining members of the break as they headed up the incredibly steep Croix-Neuve. He had about 36 seconds on the peloton with a little over two kilometers to go when Joaquin Rodriguez (ninth place) started closing the gap. Contador was the only rider who could respond to Rodriguez's burst; Schleck is not nearly as good at explosive acceleration on steep climbs. Rodriguez and Contador quickly passed Vino; Rodriguez took the sprint with Contador coming in second, Vinokourov third, and Schleck soon after, losing ten seconds of his overall lead.

Some asked afterward whether Contador had been selfish by passing his teammate and friend Vinokourov, who was visibly upset not to have won the stage. This seems silly, though, since Vino was too tired to beat Rodriguez, and by waiting for him, Contador would have lost not just the stage, but the opportunity to gain time on Schleck. Post-race, Schleck was remarkably cocky for a guy who'd just seen his lead cut by 25 percent, suggesting that Contador's actions suggested desperation. "I think that shows he needs every second to beat me," Schleck told VeloNews.
What happened: Stage 13. Second time's the charm. Route: Rodez to Revel. Terrain: Moderately hilly. Distance: 196km (122 mi). The stage began without top American sprinter Tyler Farrar, who dropped out citing intolerable pain in the wrist he broke in a crash in Stage 2. The stage was mostly dull, with announcers Paul Sherwen and Phil Liggett discussing whether the roadside trees were plantains or sycamores. Things heated up 10km from the finish: The peloton caught a break of three men who'd been out in front all day, and then five others raced off the front, including the previous day's near-victor, Vinokourov. As announcer Phil Liggett said, "It's the old motto: If at first you don't succeed, you just keep on trying!" Vino finally got this stage win, crossing thirteen seconds ahead of the peloton.

Contador was the first to congratulate Vino at the end of this stage. Said Contador, ""To see Vinokourov win today is better than if I had won myself. He's not one to share his emotions, but when I hugged him at the line, I almost started crying myself. It means a lot to him and it means a lot to this team. It was an extraordinary victory." Aw.

What happened: Stage 14. Contador-Schleck staring contest. Route: Revel to Ax-3 Domaines. Terrain: It was the first stage in the Pyrenees. Two very hard climbs in the last 40km, the 15.5km, 7.9 percent hors category Port de Pailhères and the 7.8km, 8.2 percent Category 1 climb to a mountaintop finish. Distance: 184.5 km (114 mi). At the start of the final climb, only Frenchman Christophe Riblon (33rd place) remained from an early nine-man breakaway. Behind him, the riders hoping for a third-place finish in Paris began battling for time. Carlos Sastre (2008 TDF winner, fifteenth place) attacked, as did Samuel Sanchez (third place), Denis Menchov (fourth place), Jurgen Van den Broek (fifth place), Robert Gesink (seventh place), and Stage 12 winner Joaquin Rodriguez (eighth place). Lance Armstrong's RadioShack teammate Levi Leipheimer (sixth place) seemed to be in trouble and was falling back.

Meanwhile, Contador and Schleck were locked into a prolonged staring contest, with Contador repeatedly attacking and Schleck staying right on his wheel, refusing to take the lead. At one point, they even came to a "track stand" in the middle of the climb, barely moving as each silently dared the other to go first and Sanchez and Menchov sped ahead. "They are marking each other out of the Tour de France!" said distressed announcer Paul Sherwen. "I don't know what game these boys are playing, but it's a dangerous game!"

In the end, Riblon managed to hold on to the stage win. Menchov and Sanchez came in 53 seconds later, both gaining fourteen seconds on Contador and Schleck, who finished in a group with Gesink and Rodriguez, 1:08 behind Riblon. Schleck remained 31 seconds ahead of Contador. A pleased Schleck said his only strategy had been to ride behind Contador the whole way, thus eliminating the Spaniard's ability to launch a surprise attack. He promised to race hard the next day when the terrain was more to his liking.

Lance Armstrong, meanwhile, really seemed to have stopped trying. He finished in 38th, nearly 40 minutes behind Schleck. Bicycling Magazine's Bill Strickland, author of Tour de Lance, believes he's either strategically losing time so that the peloton won't think he's a threat if he makes a break or simply enjoying the scenery on his last Tour.

What happened: Stage 15 (today!). Contador's surge. Route: Pamiers to Bagnères du Luchon. Terrain: Second day in the Pyrenees. Four categorized climbs, including the hors category Port de Balès (19.3 km at 6.1 percent). Ends with 20 km descent. Distance: 187 km (116 mi). Going into this stage, Schleck and Contador were exactly even in the mountain stages. Schelck had gained ten seconds on Contador in Stage 8, then Contador gained ten seconds back in Stage 12. Schleck's lead over Contador dated way back to the cobblestones of Stage 3, when Schleck, who had been 42 seconds behind due to a typically bad performance in the opening time trial, finished 1:12 in front of the Spaniard.

Around 80 km, a group of 26 broke off from the peloton and took a seven-minute lead as they crested the Col de Portet-d'Aspet, where, in the Tour of 1995, Fabio Casartelli died of head wounds from a crash on the descent. (The next day, his grieving Motorola teammate Lance Armstrong broke away for a solo stage win dedicated to Casartelli.) At the start of the final climb up the hors category Port de Balès, Frenchman Thomas Voeckler of Bbox attacked the lead group. He'd remain out front to win the stage. Back in the peloton, Andy Schleck was making his move. He accelerated, and the only men to keep up were Contador, Menchov (fourth), Sammy Sanchez (third), and Van den Broeck (fifth). Near the top of the climb, Schleck attacked again; Contador looked a little gassed. And it was at that unfortunate moment that Schleck's chain dropped off his bike. He lost about twenty seconds coming to a dead stop to fix it. Contador, smelling the blood in the water, sped up.

Chain back on, Schleck began the chase of his life, passing most riders as if they were standing still, then cresting the mountaintop for an insane descent down a narrow, winding road that used to be a goat path and was paved over for the TDF a few years ago. No one ahead of him would benefit from helping him, so Schleck was on his own, while Menchov, Sanchez, and Contador were all working together to distance themselves. Schleck crossed the finish line 39 seconds after Contador, losing the yellow jersey by eight seconds.

Was it unsportsmanlike for Contador to attack when Schleck had his mechanical problem? Eh. That's bike racing. Some members of the crowd booed Contador in the yellow-jersey ceremony, but it seems unfair to call him unsportsmanlike when Menchov and Sanchez were both racing ahead. Had Contador stopped for Schleck, one of them might be in the lead. Contador defended himself by saying he didn't know at the time why Schleck had stopped, and that Schleck had certainly sped off when Contador had been in trouble in Stage 3. Schleck, however, was less than forgiving, and itching to get back on the road and win his jersey back. "In the same situation I would not have taken advantage," Schleck told VeloNews. "I'm not the jury, but for sure those guys wouldn't get the fair play award from me today … I'm really disappointed. My stomach is full of anger, and I want to take my revenge."