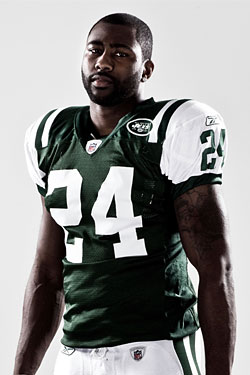 So, we're just more than two weeks away from the beginning of the NFL season, and the Jets still don't have Darrelle Revis in camp. We are on record as believing Revis will end up on the field, because these things always get resolved at some point, but it's not done yet, and the Jets are halfway through their preseason already. Which means the speculation-and-wild-report portion of the cycle is upon us. This is always our least favorite part.
Of all the Around the Horn cast members — and remember, that's what they are: cast members, actors — you thought we'd mention this Monday morning, we bet Tim Cowlishaw wouldn't have been your first guess. (Fine, we can't resist: Mariotti Schadenfreude!) Anyway, Cowlishaw reported yesterday over Twitter that Revis would be signed by Wednesday, perhaps to be announced even on Hard Knocks.
Revis and Jets announce new deal, probably Wednesday. You heard it here first. "Inside information!"

Everyone, from the Jets to every media outlet, refuted Cowlishaw's story, but he held tight, insisting he'll be proven correct Wednesday. But Wednesday is so far from now!
By the way, the Jets also are about to sign Nick Mangold to an extension, which is good news for Mangold, as much good news as any NFL contract is to any NFL player. Which is to say, "kinda good news until the team just decides to cancel it with no punishment." Which is why Darrelle Revis is in this situation in the first place.