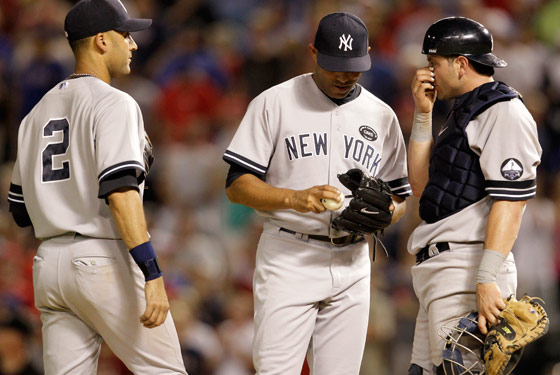 All bad Mariano Rivera outings should be accompanied by a statistic to remind us how rare such off nights are, and how lucky the Yankees should consider themselves to have never had to use the likes of, oh, Frank Francisco as their closer. So here's that stat for last night's game, in which Rivera took the loss after loading the bases in the tenth and surrendering the game-winning hit to David Murphy: Via the AP game story, the Yankees had won 29 consecutive games in which Rivera had pitched in the stadium currently known as Rangers Ballpark in Arlington dating back to August 1996. He'd never lost a game there until last night, compiling a 2-0 record with seventeen saves.
The Yankees played last night without Jorge Posada (shoulder) and Mark Teixeira (childbirth watching), and played half the game without Robinson Cano, who had a cold that kept him out of the starting lineup. This series may prove to be a playoff preview, but last night's starting lineup — which included Marcus Thames, Austin Kearns, Ramiro Pena, Francisco Cervelli, and Lance Berkman in the field at first — felt more like a spring training batting order than an October one.
The good news: A.J. Burnett pitched okay enough, surrendering the lead in the sixth on Murphy's two-run homer but toughing out seven innings despite a high pitch count. (That passes for good news for Burnett these days.) The middle relief continued its stellar run just to get the ball to Rivera in the tenth. And Alex Rodriguez homered in the eighth to tie the game, then made a nice diving stop to extend the game in the tenth, not that it ended up mattering.
Of course, the biggest reason the Yankees want to avoid Texas in the first round pitches tonight: Texas's acquisition of Cliff Lee when the Yankees couldn't seal the deal makes them a dangerous October team, particularly in a short five-game series. The Yankees avoided Lee when they played in Seattle right before the All-Star break on the day he was traded, but they'll see him tonight when he goes for the sweep against Javier Vazquez.