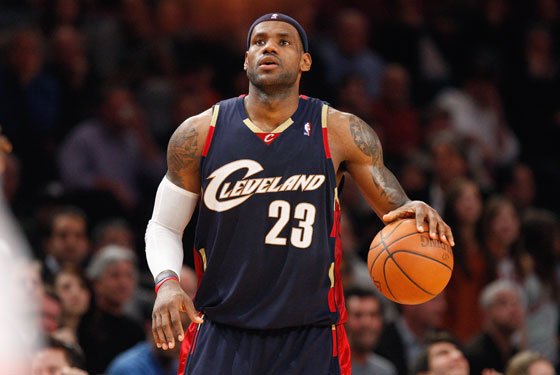 Tonight on NBA-TV — the league station you might actually have on your cable (unlike the NFL Network) but don't actually watch (unlike the MLB Network) — the Association will unveil some of its gold-tier games: its Christmas Day games, the opening-week schedule, the MLK Day games. So you'll find out when the Heat play the Lakers, the Cavs play the Heat, and so on. The Knicks aren't necessarily marquee-worthy just yet, but we've got a look at a few important dates anyway.
The full schedule comes out a week from today, but the important dates are already known. By "important dates," we mean "When LeBron Is Here." The first visit from the Heat is December 17, which is a Friday night. He'll be back on January 27, which is a Thursday. So CLEAR THY SLATE.
The first two Knicks games are on the road: at Toronto and at Boston. One and one sounds fine to us. Their first home game is against Portland. On Christmas Day, they will host the Bulls. We won't know the other subplot games — Amar'e vs. the Suns for the first time, Golden State and David Lee vs. the Knicks, Chris Paul and the Hornets and the New Begging — until next week. But a schedule is almost out, and a season will actually be played.
We have decided to call this the post-LeBron era, by the way, even though LeBron never actually played here. One suspects you all understand.