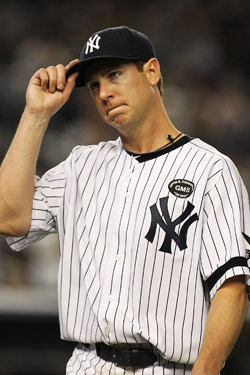 As it turns out, the Yankees couldn't have ended Boston's playoff hopes this weekend after all. They've taken two of three from the Red Sox thus far in the wraparound series, increasing their lead over third-place Boston by a game. But thanks to Tampa Bay's weekend to forget in Toronto — at least they didn't get no hits again! — Boston gained a game on the Rays in the wild card, though they've also been caught by Minnesota.
Boston took advantage of a Francisco Cervelli error Friday night and won the opener, at least assuring they'd avoid the worst-case (and columnist-feared) scenario of a sweep. Then things got a little strange. On Saturday — after Lance Berkman and Joe Buck teamed up to knock Alex Rodriguez out of the starting lineup — his replacement, Ramiro Pena, drove in two runs. (CC Sabathia's eight great innings and Curtis Granderson's RBI triple didn't hurt either.)
Then last night, after Joe Girardi scratched A.J. Burnett from the start with back spasms, emergency starter Dustin Moseley tossed six-and-a-third solid innings and the Yankees tagged Josh Beckett for a 7–2 victory, assuring themselves of at least a split of the series. (Despite John Kruk's pregame "analysis" that Moseley would be better off because he didn't have time to prepare, he knew Saturday night he'd likely be getting the ball and read through scouting reports before arriving early Sunday to watch video.)
Derek Jeter drove in three and passed Babe Ruth on the all-time-hits list, and Boone Logan continued to impress, retiring all four batters he faced, including David Ortiz with the bases loaded in the seventh. Berkman, meanwhile — who's been hearing boos and taking it like a pro — busted out with a three-hit, two-double performance.
All in all, a pretty successful weekend for the Yankees: They extended their lead over both Tampa Bay and Boston, and while a win this afternoon might not crush Boston's playoff hopes, it would move them eight games out of first. Phil Hughes, who'd originally been scheduled to start tomorrow, gets the ball, against Jon Lester.