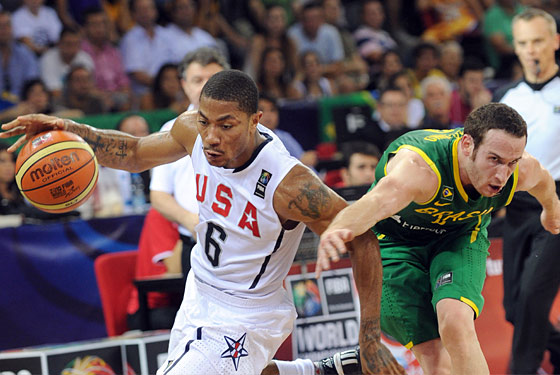 The United States national hoops team cruised in two games this weekend against Croatia and Slovenia, winning by a combined 50 points. We dutifully took some notes, but there wasn't much to be learned about the team in those games, which were pretty much over by halftime. Not so with today's contest against Brazil, which took the Americans down to the wire, missing a chance to tie the game on free throws with three seconds left.
There are, of course, two ways of looking at this result. One, obviously, is to conclude that the U.S. just isn't that good; with Nene and Anderson Varejao out injured, Brazil featured only two NBA talents (Leandro Barbosa and soon-to-be-Spur Tiago Splitter) and still gave the Americans a tough game. The Yanks got blown up on defense in the first quarter, allowing 28 points. On offense they probably made a few basketball coaches go blind with all the contested shots and sloppy passing. (The team ended up with 21 turnovers to nine assists.) It wasn't just an off day, either; the Americans genuinely look tentative out there. Their problem isn't so much that they rely on one-on-one moves and pick-and-rolls to create shots; after all, in Derrick Rose and Kevin Durant they have two of the most unstoppable one-on-one players in the world, and there are plenty of dominating offenses out there that aren't built from complicated sets and Bobby Knight ball movement. (The Suns, the LeBron Cavs, and John Calipari's Memphis teams, for example, key off penetration by perimeter players.) The U.S.'s problem at this point is that the other four guys on the floor don't know what to do when the ball-handler is making his move. They're not spacing the floor or cutting to the right spots, and this leads to a lot of deflected desperation passes and shots by guys with hands in their faces.
Which brings us to the positive way of looking at this game: a U.S. team that's still gelling on offense and experimenting with lineups took a tough punch in the first quarter, from a team that may well medal in this tournament, before turning the screws and keeping their composure for a tough win. The team's defense in the second half was excellent, while Kevin Durant and Chauncey Billups kept their heads amid the turnover hurricane on offense, getting off good shots and drawing fouls. (Though it should be pointed out that Durant was responsible for seven turnovers.) This game indicates that this team is capable of beating any other squad in the tournament even playing badly; if they simply avoid so much player mixing-and-matching in the early going and at least don't get any worse from a shooting and turnover perspective, they'll probably still take gold.
So, you know, things could go either way. But then again, it was much easier to write that negative take than the positive one, and the Americans' only two games left before the knockout stage are against Tunisia and Iran — not exactly the kind of crucible that will force them to focus on offense. But then again, no other country has been dominant yet, either, with Spain having lost to France, and Greece not having played a game yet at full strength.
In conclusion, we'll stick with our pre-tournament prediction of "whatever Fran Fraschilla says."