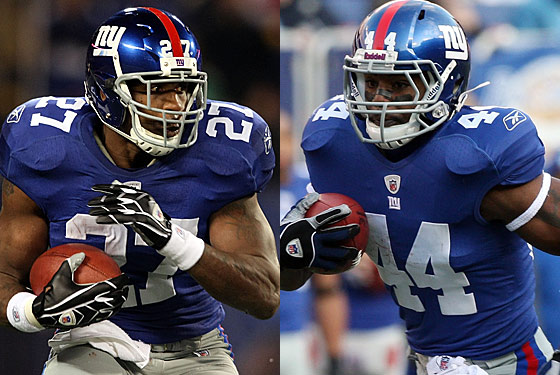 Now that the Panthers' Steve Smith has decided not to try to injure defensive back Michael Johnson on Sunday, the Giants can turn their full attention to the game itself, and finally, once and for all, turning the page on their terribly disappointing 2009 season. Among their problems last year was a running game that dropped from first in the league (during the days of their "Earth, Wind, and Fire" attack) to seventeenth. So what's happened since then (other than a few medical procedures)? Ahmad Bradshaw is now the starter.
Brandon Jacobs was none too happy with that decision — as much as we want our athletes not to rock the boat, it's hard to blame a guy who's just found out he's essentially been demoted — and he stormed away from reporters earlier this week when they asked him to discuss his role. But Bradshaw, as you'd imagine, is more than happy to discuss his new starting job, telling reporters, "I feel like I deserve it." (He also adds, for what it's worth, that he and Jacobs are still "brothers," and that their relationship hasn't changed despite the changes to the team's depth chart.) Meanwhile, Kevin Gilbride — perhaps playing the role of a dad trying to keep all his kids happy — says their roles aren't actually that clearly defined, and carries could be based on who's hotter at a given point or what kind of defense they're facing.
Last year, it was the wide receivers under the microscope during Week 1, and they turned out to be one of that team's strengths. This year, it's the running backs — and the health of those running backs; both underwent surgery in the off-season — that look to be an early-season story line. Then again, as the Giants learned the hard way last year, what happens early in the season doesn't always happen later in the year, as well.