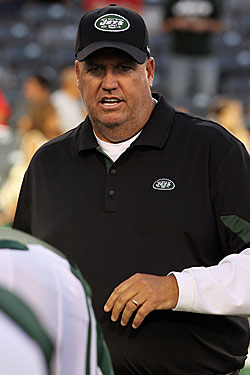 Considering how much talking the Jets have done since they last played a meaningful football game, you'd expect them to budget a certain amount of their energy each week to dealing with off-the-field distractions. Lately, though, it's not their arrogance that's garnered headlines. They started out as minor blips: Ray Lewis, for example, spoke his mind about the all the Jets off-season talking — even though he was set off by perhaps the most harmless line of the entire run of Hard Knocks. (Rex Ryan had said in the finale that he once let Lewis call plays from the sideline, and that Lewis didn't do a good job.)
Then came word that the NFL was investigating an off-season workout organized by Mark Sanchez because Ryan and another coach made an appearance, even though they offered no instruction. (This sounds so much like a petty NCAA violation that we'd expect the Jets to be docked a scholarship.) And then, the messiest of them all: The NFL is investigating claims that Jets players and coaches harassed a female reporter from the Mexican TV network Azteca.
(That story, in a nutshell: The Post reports that, among other things, Ryan and defensive-backs coach Dennis Thurman intentionally overthrew passes at practice so they'd land near the reporter, Inez Sainz, and that players allegedly "hooted and hollered" when she entered the locker room. The Association for Women in Sports Media asked the league to investigate, though Sainz — the self-proclaimed "hottest sports reporter in Mexico" — has since said, "I never felt attacked, nor that they reacted grossly toward me." In any case, Woody Johnson has already called Sainz to apologize.)
All of which is to say: The Jets discussion over the past couple of days has been about more than whether Darrelle Revis will be able to play the opener at 100 percent. But for three hours tonight, there will be football. It won't completely change the subject — Sainz will surely be all over the tabloids again tomorrow — but it'll shift the focus back to that other narrative: the one in which the Jets are set up to either succeed or fail in spectacular fashion.
The thing about the Jets' particular brand of arrogance is that they don't just expect to win the Super Bowl. They expect to win every single game, because they consider themselves better than every team they play. If they crush the Ravens tonight, they get to keep talking like that. But if they don't — if, God forbid, they lose — then both the front and back pages of the tabloids will have plenty to say tomorrow.