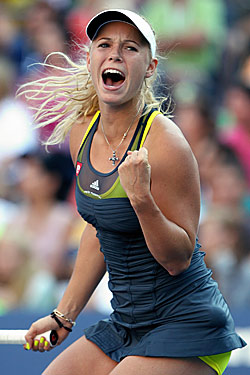 The moment the U.S. Open women's draw was announced, tennis fans began eagerly awaiting the imminent round-of-sixteen brawl between No. 1 seed Caroline Wozniacki and Maria Sharapova, a fierce competitor on the rebound. Both players were considered strong title candidates, so yesterday's intense, early-round match-up felt like a battle to decide who would play the final this weekend and perhaps claim the trophy. In the end, Wozniacki emerged the victor, with her steady game and unbeatable defense, while Sharapova flamed out in straight sets and a wealth of unforced errors.
Both players stuck to their respective games yesterday, but it came down to a matter of execution; only Wozniacki did so successfully, by repeatedly hitting low-risk shots with an enormous margin of error. Her consistency, when coupled with her ability to return everything, seemed to drive Sharapova mad. No matter how definitive Sharapova's groundstrokes seemed, the ball kept coming back, and the frustration of having to hit one more shot, again and again, pushed her to try for something more extraordinary. She often tried for too much. Not surprisingly, Sharapova hit 36 unforced errors while Wozniacki had only 10.
There was a brief period in the second set when it seemed Sharapova had figured out a way to break Wozniacki's rhythm: Draw her into the net with well-timed drop shots. Wozniacki is a great mover along the baseline, but she's surprisingly awkward coming forward, and at one point, she literally tripped over her own feet. But in the end, Sharapova's coup was for naught, because her serve — formerly her greatest weapon — let her down. She double faulted nine times throughout the match, twice on break points. As a result, Sharapova gifted two games to Wozniacki, who graciously accepted and consolidated by holding serve herself.
Wozniacki is occasionally disparaged for her style of play, since it sometimes appears that she doesn't win so much as force her opponent to lose. But her consistency yesterday against so intimidating an opponent has left many impressed. She may not have the most exciting game, but it gets the job done and leaves some of the strongest competitors looking feeble and without an answer.
After her complete razing of Sharapova, it seems more plausible that Wozniacki could run away with it all. If she does, she'll leave Flushing with not only the U.S. Open trophy, but the No. 1 ranking. Wozniacki goes into her quarterfinal match against Dominika Cibulkova having only dropped ten games throughout the tournament, and the tennis community — including sitting duck Serena Williams — will certainly be watching carefully.