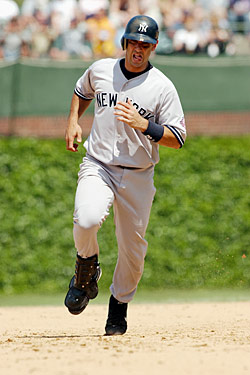 Sure, there are two and a half weeks left in the 2010 regular season, and yes, only one of this city's baseball teams has reason to look ahead to next year at this relatively early date, but baseball released its preliminary 2011 schedule yesterday. Some highlights of the Mets and Yankees upcoming-but-not-for-a-while seasons, after the jump.
• The Yankees are one of ten teams that will begin their 2011 campaign during the month of March. (They're scheduled to host Detroit on Thursday, March 31.)
• Speaking of which, yes, Thursday. Instead of the traditional Monday Opening Day, the first series this year will be weekend ones. The Mets open at Sun Life Stadium in Florida on Friday, April 1.
• For the first time since 1990, the season won't end on a Sunday. The Yankees close out the season — on Wednesday, September 28 — with three games at Tampa Bay. The Mets finish at home, against Cincinnati.
• Why these quirks? Because Bud Selig, rightfully, doesn't want the World Series to end in November anymore. (Last year, you'll recall, the Yankees played the Phillies the same day as the freaking New York City Marathon.) With the new schedule, the postseason could begin in September.
• The highlight of the Yankees' inter-league schedule? A visit to Wrigley Field in June. The Mets match-ups aren't quite as sexy: Trips to Texas and Detroit, and home series against the Angels and the A's.
• And finally, via Big League Stew, it looks like the Dodgers still won't have paid a visit to Yankee Stadium — either one of them — during regular-season inter-league play. On a similar note, the Mets still won't have hosted the White Sox. Both the Mets and Yankees, by the way, have at some point played in each of the opposing league's cities.
2011 MLB Sked Features Early Start, Cubs at Fenway [AP, via NYT]
2011 New York Mets Sortable Schedule [mets.com]
2011 New York Yankees Sortable Schedule [yankees.com]