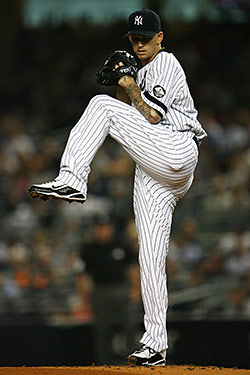 So maybe A.J. Burnett will take the field tonight — perhaps wearing the brand-new vampire teeth he picked up yesterday afternoon — and he'll throw his curveball for strikes, get ahead in the count, and give the Yankees six or seven effective innings. Or maybe it will all go wrong — one of those "disaster starts" he turned in far too frequently this year. (The Wall Street Journal today called him the second-worst starter to ever take the mound for the Yankees in the postseason, though that's based solely on regular-season ERA from the seasons in question.) It's a risk, but it's one they have little choice but to take.
Of course, some run support wouldn't hurt, and the Yankees' bats have been awfully quiet in this series — at least outside of the top of the eighth on Friday. Some quick statistics: Alex Rodriguez enters Game 4 just 2-13 in the series, and Mark Teixeira has no hits in eleven at-bats (though at least he's walked three times). As a team, they're just 4-26 with runners in scoring position — you'll recall they had plenty of base runners on Saturday evening, in the loss that didn't involve Cliff Lee — and they've been outscored 10-0 in the first three innings through three games.
The good news? Tonight's Rangers starter, Tommy Hunter, is not Cliff Lee. Far from it, in fact. The Yankee U points out that Hunter's strikeout rate is one of the worst in baseball, as is his home-run rate, and to put it simply, he's relied on quite a bit of luck this season. The current Yankee roster has a combined .948 OPS against him, and while that's admittedly based on a small sample size, that's higher than their OPS against Texas's other three starters. In the ALDS, he lasted just four innings against the Rays. (Hardball Talk piles on as well, if you'd like to read more about Hunter's shortcomings.) If the Yankees bats are going to come alive, this is the guy to do it against. Which is good, because if they don't come alive tonight, it may be too late.